Most parents will agree that having to buy a new car seat after your child outgrows the old one can be a pain in the wallet.
If you're looking for a more practical and economical option, check out 3-in-1 car seats!
The best 3-in-1 car seats were named as such because they have a rear-facing, forward-facing, and booster mode. All of which will come handy as your little one grows.
You may even see a 4-in-1 or all-in-one model. These car seats are almost identical to 3-in-1's as far as features are concerned. The only exception is the addition of a 'fourth mode' – a low-back or backless booster.
The biggest advantage of a 3-in-1 car seat is that you can buy it from the time your little one is born until he no longer needs it. I can't stress enough how convenient that is and how it will save you money in the long run.
But take note:
A 3-in-1 car seat has one glaring disadvantage, common among versatile tools and baby equipment.
Almost every multi-purpose gear appears to be of less quality compared to one that's built to do just one job.
And 3-in-1 car seats are no exception.
They're designed with transformations in mind so they may not be as comfy as other single-purpose car seats.
Make no mistake:
Multi-purpose car seats are just as safe as, say, a model made for infants.
They underwent rigorous testing, meeting or even exceeding today's safety standards.
If you think the PROs outweigh the CONs, here are some of the most important factors to consider when looking for a 3-in-1 car seat:
5-Point Harness System – Always opt for a car seat that has this type of harness system, although most of them already come with it. Numerous tests have proven that it's a lot safer than their 3-point counterparts. The system connects at the shoulders and hips, and in between legs, keeping your child safely in place.
Weight, Size, and Fit – Some parents might go with the best-looking car seat. A BIG mistake. While a model might be visually pleasing, having a good fit is far more important. Be sure to get a car seat that suits your child and the size of your vehicle. As for the weight, go for something that's still easy for you to carry, although 3-in-1s are often heavier than single-purpose models.
Weight Limit – Go for a car seat with a higher weight limit. Experts say that your little passenger needs to be in a rear-facing position for as long as possible since that's the safest setup for children. So how do you know when it's time for him to transition to the front-facing mode? That's after your kid exceeds the weight and height limit of the rear-facing mode.
Here are my top five picks for the best 3-in-1 car seats out there.
---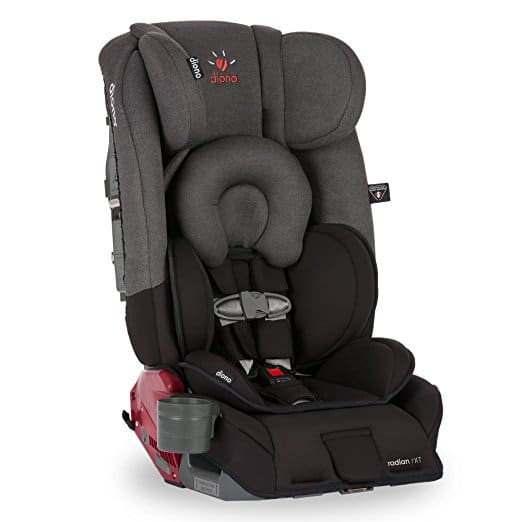 What makes the Radian RXT stand out is its FAA certification. If you take to the skies often, you can rest easy and take this car seat with you on an airplane.
Another thing I like about this car seat is that you're able to carry it on your back like a backpack by using a strap (sold separately).
Moreover, the Radian RXT is so compact that you can fit three of these seats into most mid-sized vehicles.
Installation is also straightforward with its SuperLatch system. You'll hear a click after installing the seat, while the visual indicator lets you double-check for safety with ease.
I mentioned earlier that your child needs to stay in the rear-facing position for as long as possible. Well, the Radian RXT can accommodate your little passenger in this mode up to 45 lbs. Forward-facing mode starts from 20-80 lbs in a 5-point harness still, while you can convert it to a booster seat from 50-120 lbs.
The Radian RXT also excels in the building department. It comes with full steel frames, and the sides come aluminum reinforcement. These side walls also have EPS energy-absorbing foam while the harness also reduces impact in case of a collision.
The only downsides of the Radian RXT are: One, it only offers two recline positions which may not be that comfortable depending on your child's age. And while it has a slim profile, its length might be an issue especially if you have a small car.
Additional Specs
Car seat weight – 23 lbs

Minimum weight recommendation – 5 lbs

Maximum weight recommendation – 120 lbs
---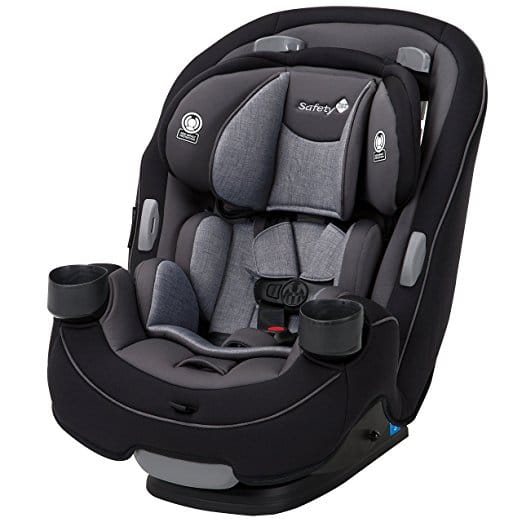 This car seat grows with your little bundle of joy. Use it in rear-facing mode from 4-40 lbs, convert it to front-facing up to 65 lbs, then turn it into a booster seat which can accommodate up to 100 lbs.
One of its primary draws is the harness holder. It helps you get your child in and out of the car easier since you don't have to look for the harness and the clips behind your kid's seat.
And when placed in the rear-facing position, the Grow and Go car seat takes less space. Parents are sure to enjoy the extra 7 inches of legroom in the front. And by the way, the pad is also machine washable and easily removable without having to take off the harness.
The only downside to this car seat is installation. Unfortunately, it's not one of the easiest car seats to install, and you may have to check videos on how to do it.
Additional Specs
Car seat weight – 18.7 lbs

Minimum weight recommendation – 5 lbs

Maximum weight recommendation – 100 lbs
---

The Nautilus qualifies as an all-in-one or 4-in-1 car seat whichever way you'd like to call it. It comes with the three usual modes – rear-facing, front-facing, and booster.
But while in booster mode, you can also convert it to either a high-back booster or a backless booster for toddlers up to 12 years old.
It comes with latch connectors for easy installation. Adjusting the harnesses and headrest for maximum comfort and security is also a breeze thanks to its Simple Safe Adjust System.
The bonus:
It has a storage compartment for snacks, drinks, toys, or anything that your child might need.
On the other hand…
While the latch connectors are a huge plus, this car seat doesn't have a lock-off for seat belt installations.
Additional Specs
Car seat weight – 20.52 lbs

Minimum weight recommendation – 22 lbs

Maximum weight recommendation – 120 lbs
---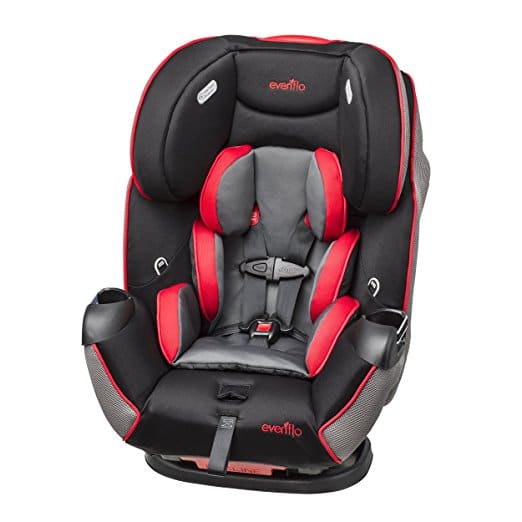 A fancy-looking car seat, the Symphony LX gives you two options for installation – either by using either the seat belt or the LATCH system.
The Infinite Slide Harness offers an accurate, comfortable fit and will never require you to re-thread it as your little passenger grows.
The e3 Side Impact Protection promises to reduce side impact crash forces by up to 50%. It's a top-rated car seat which meets and exceeds all applicable Federal Safety Standards to put parents' minds at ease.
It also comes with integrated dual cup holders for when your little passenger needs to feed.
Unfortunately, this car seat may not be suitable if you have a tall kid. It's smaller compared to other car seats, and some children might outgrow by the time they reach 6 years old.
Additional Specs
Car seat weight – 23 lbs

Minimum weight recommendation – 5 lbs

Maximum weight recommendation – 110 lbs
---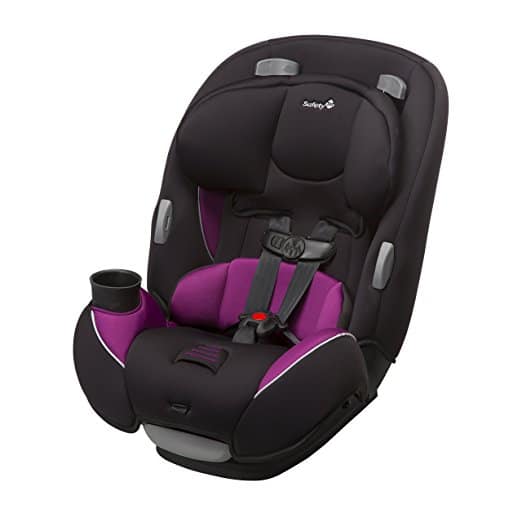 The Continuum is also one of the few car seats that are FAA certified. Always nice to have if you plan on traveling a lot with your little one by plane. While considered a budget model, this Safety 1st car seat offers more or less the same level of protection as its pricier competitors.
Features-wise, it also comes with harness holders and a removable cup holder for easy cleaning. It also has the Quickfit Harness which lets you adjust both the height of the harness and the headrest in one, easy step.
The only downside of the Continuum is that it may not be the last car seat that you'll ever buy. Most kids, especially the ones with longer torsos may outgrow the booster mode fast.
Additional Specs
Car seat weight – 14 lbs

Minimum weight recommendation – 5 lbs

Maximum weight recommendation – 80 lbs
---
One of the biggest and common mistakes that parents make when buying a car seat is that they opt for something that's nice-looking.
While it's good to have a car seat pleasing to look at, safety and comfort features should always come first.
After all, car seats will stay inside your vehicle most of the time, so you won't get a lot of opportunities to show it off.
---
Didn't find the stroller you want? Check here>> Car Seats & Accessories
Or Back To>> Best Car Seats Categories
---