Few things in life are as joyful as having a baby. But twins? That's just awesome!
But along with the awesomeness of having twins comes double of pretty much everything. You need to change twice as many poopy diapers, get twice as many matching pairs of clothing, and shower twice as many hugs and kisses.
The same thing goes for their stroller. You need one that can handle twice the load.
The best strollers for twins fall under the category of double strollers. And in this category, side-by-side models are often the best bet.
They allow you to give your twins the same amount of attention, while both of your kids get a clear view of the world outside. Something that inline strollers can't offer.
With seats positioned alongside each other, both usually have the same amount of space and amenities. But while turning and maneuvering a side-by-side stroller is easier compared to an inline stroller, the former isn't suited for navigating through narrow doorways and aisles. It's also ideal for twins or kids that are more or less, of the same age and weight.
But while turning and maneuvering a side-by-side stroller is easier compared to its inline counterpart, the former isn't suited for navigating through narrow doorways and aisles. It takes up a lot of space, so shopping for groceries with one can prove challenging. Not to mention it's best suited for twins or kids that are, more or less, of the same age and weight.
But for simple walks in the park to breathe fresh air, a side-by-side stroller will do just fine.
If you're shopping for one, keep your eyes peeled for these must-have features:
Storage basket

Rubber, foam, or air-filled tires

Front wheel brake for stability

Compatibility with infant car seats

A 5-point safety harness

Reclining seat

Adjustable canopy

Car seat base adapters to allow parents to attach infant seats to the stroller without having to unbuckle the baby
And while the following features may not be absolutely necessary, they are nice to have:
Bag hooks for holding shopping bags and other stuff, leaving the parent's hands free to push the stroller

Cup or bottle holder

Child trays

Toy attachment

Rubber or foam, height adjustable handles

Front wheel swivel
Aside from must-have and nice-to-have features, I also took the following factors into consideration in creating this list:
Weight Limits: Be mindful of the weight limit, not just of the stroller itself, but also of the individual seats. Many inline models, such as those built for children of different ages, allow a higher weight limit for the front seats than the rear ones.
Detachable Features: Do you need a child tray or a bottle holder, perhaps? By the way, some strollers have these features included in the package while others are to be purchased separately.
So who took the top spot when it comes to double strollers available in the market? Read on to find out.
---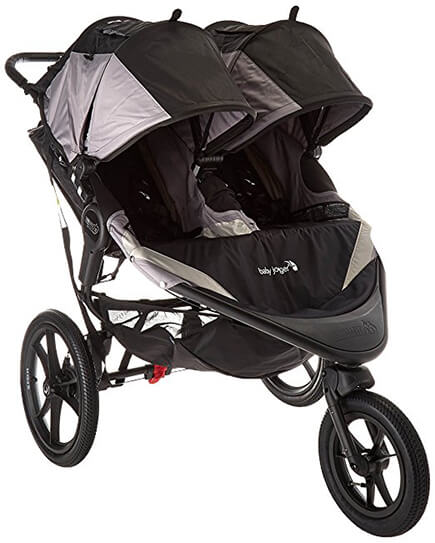 The Baby Jogger Summit X3 Double is a quality, hybrid jogging stroller all-in-one package. It's perfect for those active parents who'd like to spend their time walking or jogging together with their two cute angels.
Does it live up to its name? Yes, it does!
You see, the Summit X3 offers exceptional performance and maneuverability on any terrain. If you don't plan to use it as a jogging stroller, that's totally fine. It comes with three wheels which are all-air filled. Both the front and rear wheels lock for added security and on top of that, the lock is located on top of the handlebar for convenience.
One of its strongest points is Baby Jogger's patented quick fold technology, allowing you to fold this stroller with one hand. The UV 50+ canopies offer added protection from the elements while the seats recline to a near flat position, making sure that your kids are always comfortable.
Want to use it as a travel system? By all means, do so. It's compatible with most branded car seats and even prams in the market.
Two cons though: One, the handlebar is non-adjustable. Two, the color choices are limited.
Additional Specs
Stroller weight – 37 lbs

Age range – six months up to 100 lbs (combined weight on both seats)
---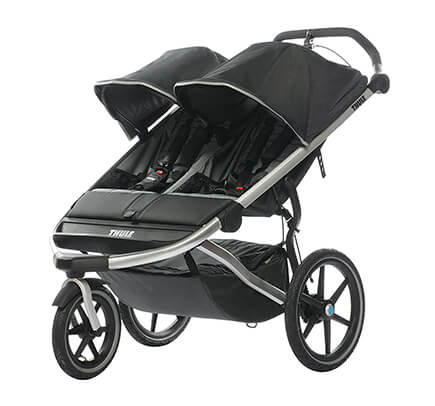 The Urban Glide 2 is an all-time favorite in the side-by-side department. It's a bit expensive compared to other models in this list. But hey, you get what you pay for.
It's a beautiful and sleek stroller with stylish aluminum frame and large wheels. Best of all, it stands out not only because of its looks but because of its great features, too.
For starters, you get a hand-operated parking brake, adjustable ergonomic handlebar, smooth-riding rear suspension, big canopy with a peek-through window, and reclining seats.
Another handy feature is the storage area, which you can fully close to protect the contents. Few strollers in the market can do the same.
On the other hand, the Urban Glide 2 has its downsides. One, it doesn't come with car seat adapters (compatible with most car seats in the market) but you can purchase them separately. Two, you can't roll it when folded so you'd have to carry it.
Additional Specs
Stroller weight – 31 lbs

Age range – newborn (with infant car seat) up to 5 years
---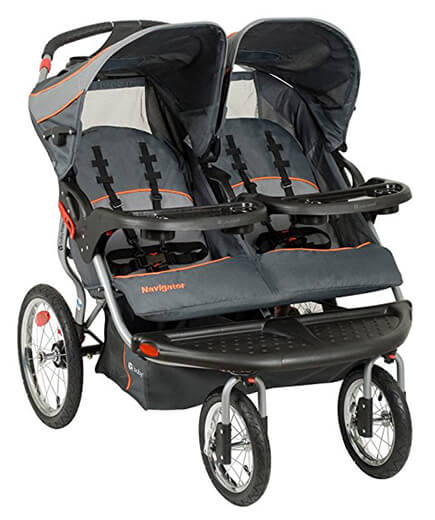 I did mention earlier that having twins means double of everything, including the budget, right?
Well, the Baby Trend Navigator Double Jogger stroller is a fine attempt in going against the grain. The materials used are durable despite the affordable market price. It has all the essentials like two large storage baskets, a parent tray, and two cup holders.
You can even put your keys, phones, or wallets on the handlebar. The parent tray also has a pair of built-in speakers so you can listen to your favorite tunes while on the move. Nice!
The rubberized handlebar is height-adjustable, which is a plus. It also comes with a 5-point safety harness for your babies. The front wheels lock and swivel as well and come with a parking brake so you don't have to worry about the stroller running off on its own.
Some cons that we have found on it though is that: One, the seats lack side paddings. Two, the wheels wobble a bit when running at high speeds. Three, folding the stroller could have been a little easier.
Additional Specs
Stroller weight – 23 lbs

Age range – six months up to 100 lbs (for both seats)
---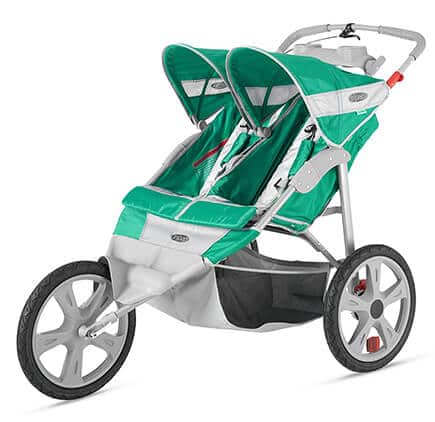 First things first:
This stroller is meant for jogging or walking only. The front wheels do not swivel so they're not ideal in supermarkets or anywhere where you'd have to go through aisles.
Nevertheless, the Instep Flash can be a handy partner, especially if you're active.
The rubberized handlebar is slip-resistant so you can comfortably hold it while jogging. But if you still feel that you need additional security, you can use the wrist strap to tether the stroller to you.
The seats also offer multi-recline positions with canopies to provide shade from sunlight. This budget-friendly model also boasts a dual trigger mechanism.
As for the cons, we can name a few. It requires assembly so setting it up can be a challenge. It's also a little wider compared to other side-by-side strollers in the market.
Additional Specs
Stroller weight – 32 lbs

Age range – six months up to 100 lbs (for both seats)
---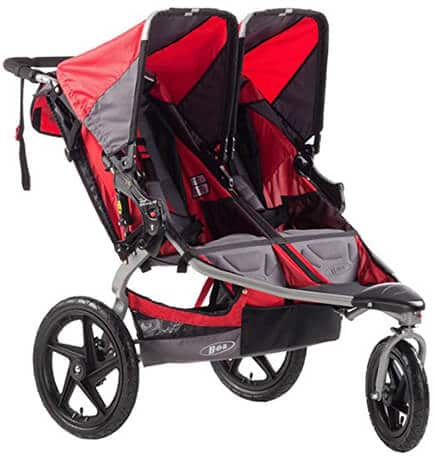 The Duallie comes with an adjustable suspension system, something you don't see often in other strollers. The locking and swiveling front wheels are made of high-impact polymer composite material, while the aluminum frame keeps it lightweight and sturdy at the same time.
Sounds good. But this Duallie shines the most in the storage department. You get four interior mesh pockets to store snacks and other small stuff. You can also find two large back pockets behind the seats. Lastly, you can keep bigger things like diapers, bags, or toys in the large storage basket just below the seats. Now that's handy!
Cons? The stroller is not ideal if you have a small car so check the fit before buying. The other downside is probably subjective, but some parents don't like the logos on the canopy and handlebar. That's for you to decide.
So there you have it, moms and dads. Taking care of twins sure provides twice the fulfillment and twice the challenge. But I hope that, in reading this list, you'd find the stroller that can keep up with your double-sized needs.
---
---