If you're not a fan of infant car seats nor the idea of having to buy another one when your child outgrows it, a convertible is your best bet.
This type of car seat converts from rear-facing to forward-facing. Some are even considered as a 3-in-1 or even 4-in-1, meaning you can convert them to a booster car seat, too.

However, do note that child care and safety experts suggest that your baby should stay in a rear-facing car seat for as long as possible.
So why should you opt for a convertible car seat rather than an infant car seat first?
Let's admit it:
A convertible car seat is more practical and cost-effective. It saves you the trouble of having to think about which type of car seat to buy next.
If you're finally decided that you'd like to go with a convertible car seat, check out the useful shopping tips I've prepared for you below as well as the features you need to look for before buying.
A five-point harness: This feature is par for the course in nearly all car seats. Studies proved that this type of harness offers the best security for babies. If you find a car seat without this safety add-on, find something else.
Side impact protection: Aside from helping you to easily transfer your little angel too and from your car, car seats are also made to ensure that your little one is protected in case a collision happens. Accidents can happen as much as we try to avoid it, so it'd be best to at least minimize injury.
Easy adjustments: You'd be using the seat from your baby's infancy through his toddler years, so adjustments are a must. You have to make sure that you're able to tweak everything from the harness, latches, to the straps, easily as your child grows. Some models even allow you to do the adjustments with just one hand.
Comfort: This should be quite simple. Find something that has plenty of seat padding and cushioning as well as head support. You also want to make sure that your baby's not only comfy but fits snuggly into the seat as well.
Easy cleaning: Removable pads, cushions, and inserts are a plus. Much better if they're washable. We're dealing with babies here and it shouldn't come as a surprise that taking care of them can be really messy.
For starters, feel free to check the convertible car seat models I've listed below. I consider the Chicco NextFit as my top pick because of all the features along with an affordable price.
---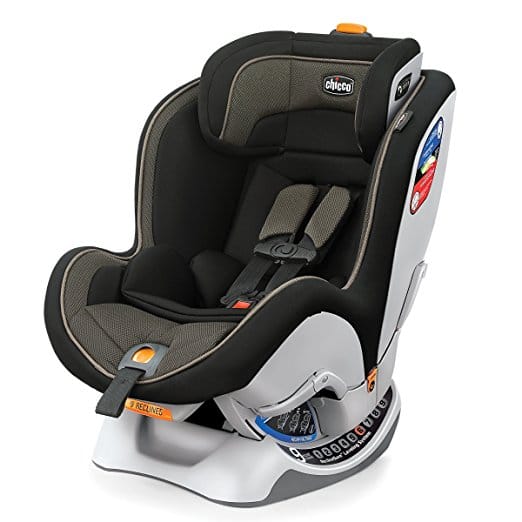 The NextFit from Chicco is probably one of the easiest (if not the easiest) car seats to install around. It's designed to be used both as rear-facing (for infants) and front-facing (for toddlers).
And when I said ease of installation, I'm actually talking about nine different recline positions to ensure that it fits a wide range of vehicles. This is really important since car seats are meant to be moved to and from the car. Convertible car seats are heavier than infant car seats but still, it's good to know that this one can fit different vehicles.
To make things a lot easier for you, this car seat has what you call RideRight Dual Level indicators. This feature ensures that the car seat is angled correctly in both rear-facing or front-facing positions.
Aside from ease of install, the NextFit is also packed with a lot of security features. It's got a five-point harness with a one-pull tightener, together with a two-position chest clip for growing children. The extra padding ensures that smaller babies can fit on it and FYI, this padding is removable. Handy for when your child starts getting bigger.
Since it's designed to be used from infancy to toddler years, the headrest that it comes with is also adjustable up to six different height positions. The five-point harness also adjusts automatically to fit your little one's shoulders as he grows.
As great as it is, some parents have claimed that the deep walls of the seat have a tendency to trap in heat.
Additional Specs
Car seat weight – 25.1 lbs

Minimum weight recommendation – 4 lbs

Maximum weight recommendation – 65 lbs
---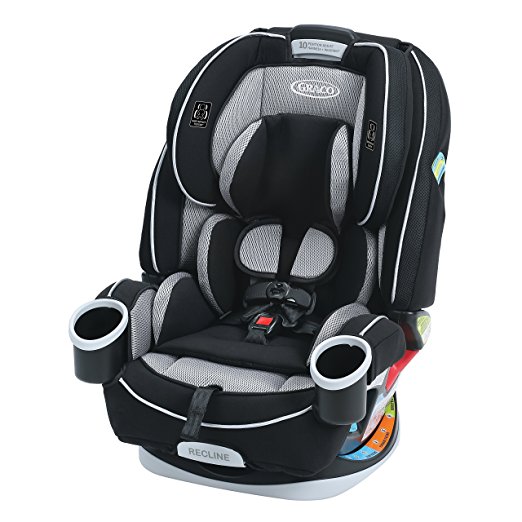 All-in-one is probably an understatement when you talk about Graco's 4Ever car seat. The manufacturers claim that this car seat can last up to 10 years. That means you wouldn't have to think about buying another car seat for your little bundle of joy.
What sets this car seat apart from its competitors is that it's probably the only one to offer all four options – rear-facing, forward-facing, high-back, and backless booster. I'll be giving you guides as well on the other types of car seats on my future posts.
The thing that makes this car seat be dubbed as "all-in-one" is the easy headrest and harness adjustment. That's on top of the well-padded seat that ensures comfort for your little one.
If I am to name a disadvantage, it's probably the fact that it's a little hard to install. Probably subjective, but some parents have echoed the same sentiment.
Additional Specs
Car seat weight – 23 lbs

Minimum weight recommendation – 4 lbs

Maximum weight recommendation – 120 lbs
---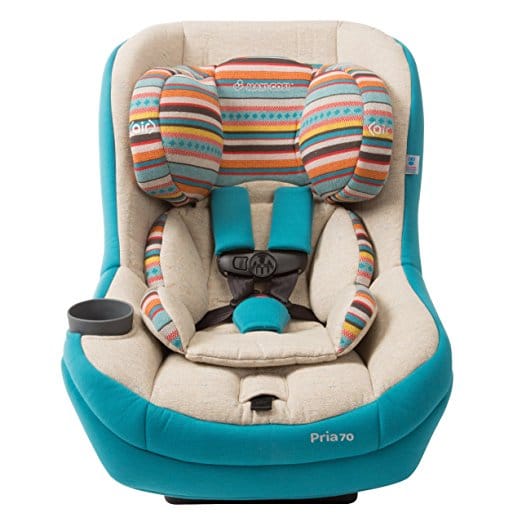 The Pria 70 is definitely a very nice-looking car seat. The way it's designed makes it possible to fit on smaller cars – something that you don't often get to see in a convertible car seat.
It's not only very neat-looking but cleaning-friendly. too. Here's why.
The fabric of the seat is able to draw out liquids away from your little angel's skin. What's more is that it can be snapped off and washed separately. The infant inserts ensure that your infant fits snuggly and securely. After he outgrows infancy, simply remove the inserts. Oh, and they're washable too.
It comes with their version of side impact protection that's provided by Air Protect technology which protects your baby's head. Want something cool and functional? You can purchase the canopyseparately for added protection.
Unfortunately, some parents claim that the harness is a bit hard to tighten in the rear-facing position.
Additional Specs
Car seat weight – 23 lbs

Minimum weight recommendation – 9 lbs

Maximum weight recommendation – 70 lbs
---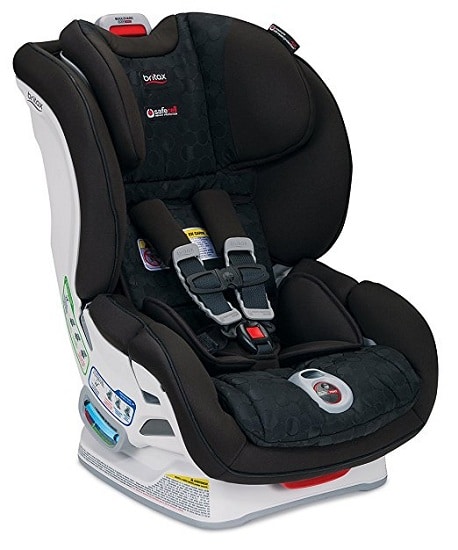 The Boulevard's strongest selling point is probably its patented ClickTight system, along with other safety features.
Studies have actually shown that up to 75% of car seats are installed incorrectly and I can't stress enough how dangerous that is. The ClickTight system ensures that doesn't happen. It also comes with an additional layer of side impact protection and a steel frame.
Britax made sure to focus a lot of effort in making sure that your little one is secured each time you travel. The harness has an indicator which tells you that your angel's harness is within proper tightness. The harness was designed smartly enough that it clicks to let you know as well that it has reached the enough tightness.
It just has one con and that is, it's on the bulky side of convertible car seats. Then again, convertible car seats are really bulky and heavy in general so that's expected.
Additional Specs
Car seat weight – 24 lbs

Minimum weight recommendation – 5 lbs

Maximum weight recommendation – 65 lbs
---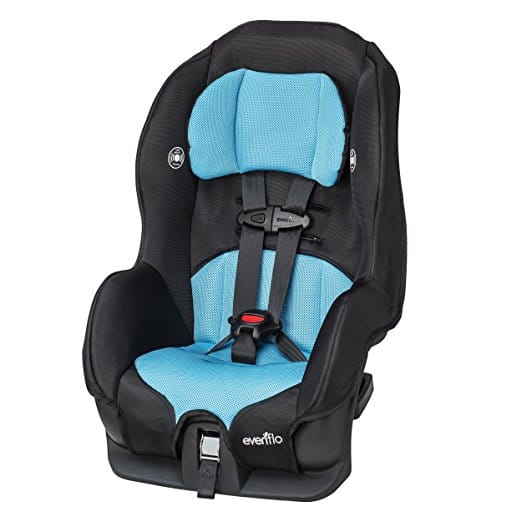 If you're on a tight budget, then look no further than the Tribute LX. It's probably one of the most affordable car seats out there that's packed with features and functionalities.
Don't even think for a second that less expensive means lower quality. This car seat actually met and exceeded all applicable federal safety standards. What that means for you is peace of mind knowing that your baby is safe all throughout your travel.
Another plus? The car seat pad and head pillow are both removable and washable. It's also one of the lightest car seats considering that it's convertible.
If anything, this car seat could actually need a little more padding and cushioning.
Additional Specs
Car seat weight – 9.1 lbs

Minimum weight recommendation – 5 lbs

Maximum weight recommendation – 40 lbs
Whether you should go with an infant car seat or a convertible is totally up to you. If you go with a convertible, however, I would suggest that you ask a professional's help to install or check how you installed it. Studies have shown that up to 75% of car seats are installed incorrectly. Better safe than sorry.
---
Didn't find the stroller you want? Check here>> Car Seats & Accessories
Or Back To>> Best Car Seats Categories
---