What are booster car seats anyway?
In a nutshell:
Booster car seats were built lift your child when sitting inside the car.
You see, letting a toddler sit in the backseat on their own puts the little one at a big risk.
Seat belts were made to fit an adult's body. The straps naturally fall on your shoulders and lap to keep you safe should an accident happen. Unfortunately, such isn't the case with kids. Although a toddlers are bigger and stronger than babies, they're still too small to fit within a seat belt securely.
To make it simpler: 
Booster car seats ensure that adult seat belts fit on a child's smaller body.
Without them, the straps would most likely be positioned across his neck and belly, very dangerous especially when an accident strikes.
So when is the ideal time for you to transition your little one from a front-facing car seat to a booster?
The answer: 
Once your child reaches the maximum height or weight requirement for a front-facing car seat.
Another question that you probably have in mind is until when should you let your child use a booster seat. There's no specific age limit, but child safety experts recommend using boosters until eight years old.
My general rule, however, is simpler:
Let your kid use a booster car seat until such time that your child is big enough that the seat belts fit on the shoulders and lap.
Note that two types of booster car seats are available today: the high-back booster and the backless booster.
The main difference between the two is that the former is composed of a bottom seat and back, while a backless is pretty much just the seat itself.
High-backs are taller and sturdier compared to their backless counterparts. They're also favored by many since they have more safety features than backless boosters.
The seat on a high-back comes with side wings to protect your child's head during a collision. Most high-backs also have headrests for additional protection. You can also find other models with removable backs, which you can detach once your child outgrows it.
A backless booster, on the other hand, simply raises your child's height, so the car's seat belts stay where they're supposed to be.
Compared to a high-back, a backless booster is ideal if you have an active child and plan to switch vehicles frequently since they're lighter. They also offer less restraint, and price-wise, they're more affordable.
When choosing which booster car seat, regardless if it's a high-back or a backless, you will want to consider the following guidelines to get the best value for your buck:
Always check that your child fits well on the car seat of your choice. Moreover, ensure that the booster car seat fits well in your vehicle too.
Check how convenient it is for you to install/uninstall the car seat Go for the one you can carry and transfer to different vehicles with relative ease.
The clips that come with car seat should also be lock and unlock quickly.
Look for safety features, together with a secure and comfortable base.
The following models made it into our list of the best booster car seats. The one sitting on the top of our list is none other than the Chicco KidFit 2-in-1.
---
Chicco KidFit 2-in-1 Car Seat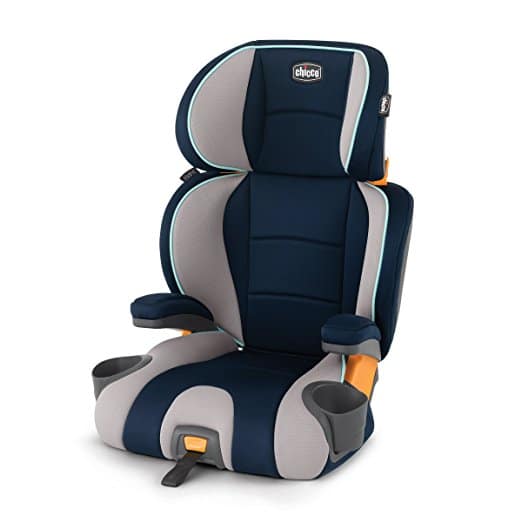 This model comes with a removable back – and ranks as one of the best in this category.
The KidFit 2-in-1 is part of Chicco's lineup of car seats for children. Do you remember the KeyFit and the NextFit? This one is the third in the series.
So how does it fare to other booster car seats? One of its key features, and probably the most important one, is the shoulder belt guide design.
If you have an active kid (or God forbid, you meet an accident), this design ensures the seat belts to never fall out of place, reducing the risk of injury or death during a road mishap by a significant margin.
The KidFit can also last a long while as the car seat booster is adjustable depending on height. It comes with ten height positions in addition to the removable back.
On the other hand…
Two cons I found with the KidFit are: (1) It's not a tall booster especially for a high-back. (2) If your vehicle's seat has a head restraint that is not adjustable or removable, this booster car seat is probably not a good choice.
Additional Specs
Car seat weight – 10.2 lbs
Minimum weight recommendation – 30  lbs
Maximum weight recommendation – 110 lbs
---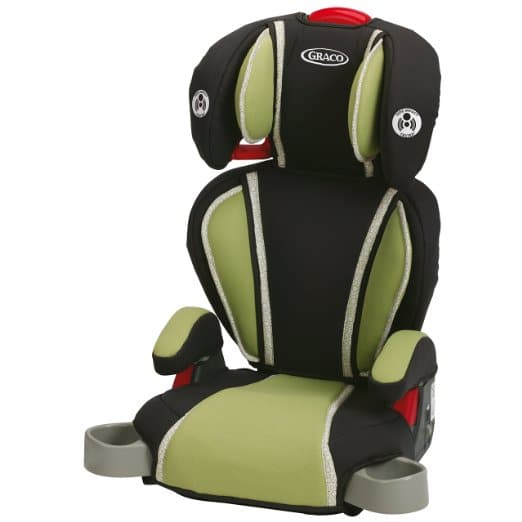 Another booster with a removable back, the Highback TurboBooster packs all of the necessary safety features while keeping your child comfortable during trips.
It 's so light and compact that you can fit three of them across the backseat of a medium-sized vehicle.
The wide, padded armrests and the fully adjustable headrest are also more than welcome.
The only downside with the TurboBooster is the absence of latches you can anchor to your car's seats.
Additional Specs
Car seat weight – 9 lbs
Minimum weight recommendation – 30  lbs
Maximum weight recommendation – 100 lbs
---
Britax Parkway SGL Belt-Positioning Booster Seat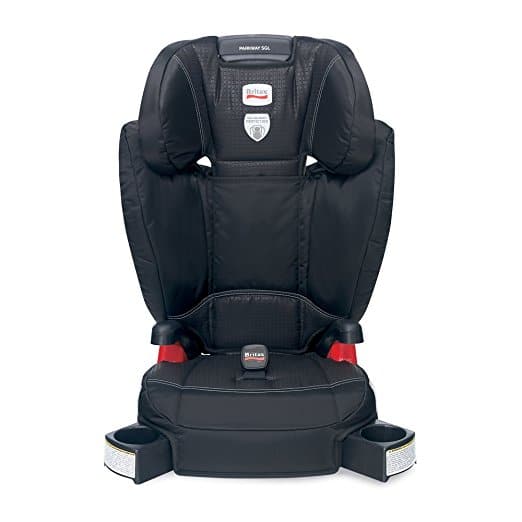 The Parkway SGL's design exudes experience and insight.
For one, this car seat uses the ISOFLEX Latch Connection system where special latch connectors secure the car seat to your car.
No more accidental flying during the collision which is safe not only for your kid but for the rest of the family members as well.
The SecureGuard Belt-Positioning clip, on the other hand, keeps your child from slipping through the lap area of the seat belt.
And here's a nice bonus:
The Parkway SGL also comes with retractable cup holders, so your small passenger has his drinks and snacks within reach.
As for caveats, I don't have many regarding the Parkway SGL. If anything, it's a little pricey compared to the others on the list. But every penny spent on this booster car seat is a penny well-spent.
Additional Specs
Car seat weight – 16 lbs

Minimum weight recommendation – 40  lbs

Maximum weight recommendation – 120 lbs
Evenflo Amp Belt-Positioning Car Seat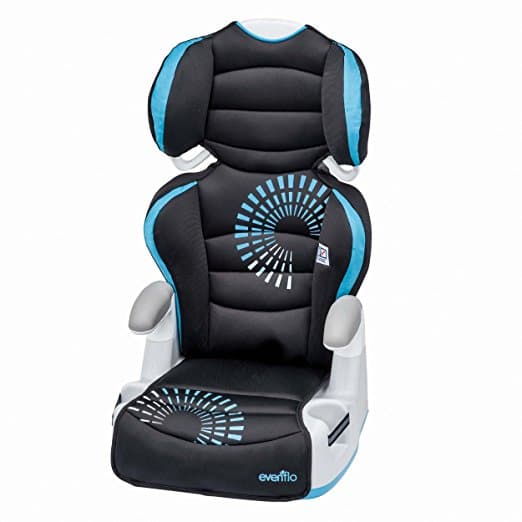 The Amp is probably one of the few budget-friendly booster car seats that deliver.
Not only is it affordable. But this Evenflo booster also comes with all of the nooks and crannies you could ask for.
The back is also removable as expected of a high-back booster. The belt guides of the Amp also helps in keeping seat belts positioned correctly on your child's body.
It's also height-adjustable to match your child's as he grows, while the retractable cup holders allow your child to fill his or her tummy while on the go.
On the other hand, the back, while height- adjustable, doesn't offer as much space as other models. It only has six different positions compared to the KidFit's ten.
The cup holders' location is a little off, and your kid may have a harder time reaching for the snacks.
Additional Specs
Car seat weight – 8.2 lbs

Minimum weight recommendation – 40  lbs

Maximum weight recommendation – 110 lbs
---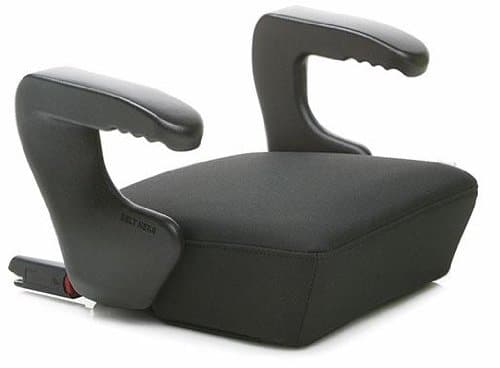 Maybe you think backless boosters are no good since we've only listed high-back models so far?
Enter the Clek Ozzi Backless booster seat!
The Clek Ozzi does its job well. After all, backless booster car sole purpose (if I may) is to provide a lift to your child while he's sitting inside your car.
However, along with its simple design, it has plenty of security features for your little one's safety and your peace of mind when on the road.
The seat is designed like that of a car with the addition of a padding so the legs of your kid don't get numb from prolonged seating.
The price is definitely okay on this but it could use some cup holders.
Additional Specs
Car seat weight – 6 lbs

Minimum weight recommendation – 40  lbs

Maximum weight recommendation – 120 lbs
Though highbacks are more preferred by experts compared to backless boosters, the decision would still be up to you. It would depend on your preference, as well as the size and type of car that you have.
All booster car seats have been tested for safety. They will keep your child safe – but only if installed properly. So don't skimp on that step!
---
Didn't find the stroller you want? Check here>> Car Seats & Accessories
Or Back To>> Best Car Seats Categories
---