So your baby just turned one. And here you are, thinking if it's now time to change him over to a different car seat.
If you already have one, my advice is "don't."
The best choice for a one-year-old is still an infant car seat. These rear-facing car seats stay in the back passenger seat, the safest set-up. And most of these car seats have an age limit of two years old before needing a replacement.
Unless your child is quite big and beefy, staying in this car seat for as long as possible is the way to go – until such time that your little one meets the height and weight limit.
If you opted for a convertible seat, then you're covered for a few more years depending on the model.
A 2-in-1 convertible car seat transforms from rear-facing to forward facing, so your child can still use it until his toddler years.
Now, if you got an all-in-one convertible, then that's even better.
This type of car seat is usable from the first day you take your newborn to your house until your child can use the adult seatbelts.
Do note that there are a couple of things that you need to carefully consider when choosing the best car seat for your one-year-old.
These buying considerations are pretty much the same regardless if you go for an infant car seat or a convertible.
Here they are:
Fit – The fit is one of the first things that you need to check when shopping for a car seat. No matter how good its quality, it will prove useless if it doesn't fit in your vehicle. If you have multiple children, consider something that has a slim profile. In most midsize cars, installing three compact car seats is possible.
Size and weight – These factors are important for portability. Admit it; we love taking our kids out. We bring them to the park, we bring them to the mall, and let's not forget our frequent visits to grandma and grandpa. Lightweight and portable models allow for easier transfer to and from the car, minus the aching arms.
Ease of installation – Most of the reputable models brag about ease of installation. However, some look like they need professional help just to install. What's worse, you get unclear and hard-to-follow instructions manual.
My advice is to check with your retailer before you decide to buy a car seat. If buying from an online store, consider checking the comments sections and watching video tutorials.
Adjustability – Kids grow incredibly fast, that's for sure. As such, you'd need a car seat that can grow along with him. If possible, go for something that offers multiple height adjustment options.
So, without further adieu, here are the car seats that made it on our list as the best car seats for a one-year-old.
---

Graco 4ever DLX is a safe and comfortable car seat that is made to last from the birth of your newborn until he would no longer need a safety seat. This car seat offers 4 different arrangements: rear facing, forward facing, high-back booster seat, and backless booster seat. It also meets or even exceeds criteria for frontal crash, side impact, and rear impact tests
It has a Simply Safe Adjust harness system that automatically adjusts both harness and headrest height. It also offers a 6 seat position recline and has an InRight LATCH system for quick, easy, and secure installation.
Its seat cushion is machine washable and has a RapidRemove cover which can be taken off within 60 seconds without uninstalling the seat.
Additional Specs
Car seat weight – 22.8 lbs

Minimum weight recommendation – 4 lbs

Maximum weight recommendation – 120 lbs
---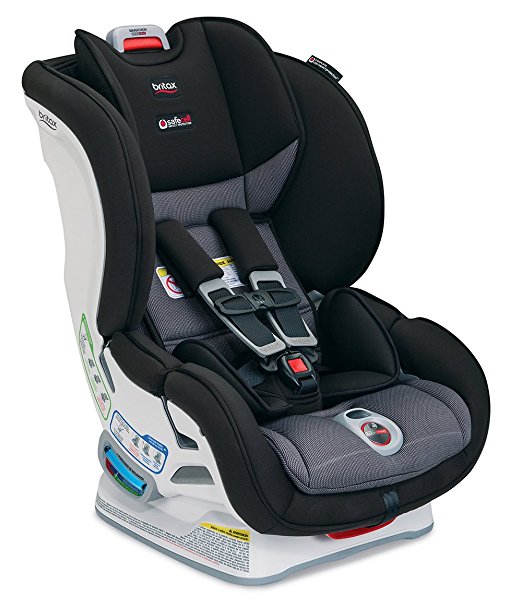 Next on our list is the 2-in-1 convertible model from Britax. It starts out in rear-facing mode and can change over to forward-facing with little to no effort at all.
Staying true to its words as one of the safest car seat makers around, Britax made sure that this car seat is well-equipped.
SafeCell Protection is a system with a steel frame and an impact-absorbing base, and it's present in the Marathon ClickTight.
In addition, the tether is also energy-absorbing with stitches that slow and reduce forward movement during a crash.
The bonus:
It's FAA-approved, so it's safe to use in airplanes.
When in rear-facing mode though, leg room is limited especially for children who are almost at the weight and height limits of the car seat.
Additional Specs
Car seat weight – 28.4 lbs

Minimum weight recommendation – 5 lbs

Maximum weight recommendation – 65 lbs
---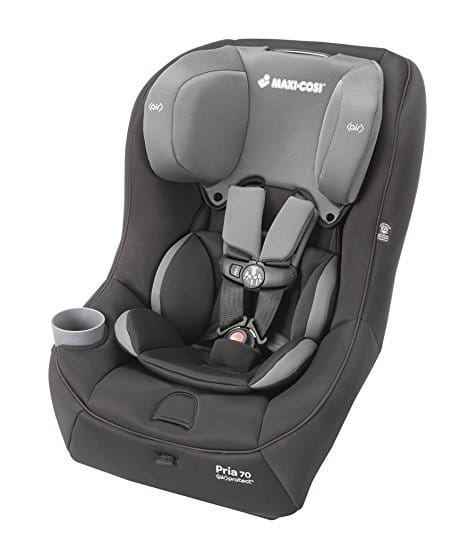 The safety features of the Maxi-Cosi Pria are simply of the best you can find.
For starters, the FlexTech helps in distributing crash forces in the event of an accident. The Air Protect safety system, on the other hand, is an advanced type of side impact protection. It significantly reduces the force of an impact by releasing air in the headrest at the exact moment of impact.
Safety experts say that it's best to keep your bundle of joy in a rear-facing car seat for as long as possible. Most car seats can only be in this mode until 35 lbs. But the Pria 70 took it one step further at 40 lbs.
The seat padding on this car is also of premium quality. Plus, the fabric is self-wicking, making sure your tiny passenger is comfy by deodorizing and keeping liquids away from the skin.
The only con:
It's quite pricey. Nevertheless, you'd get what you pay for.
Additional Specs
Car seat weight – 18.4 lbs

Minimum weight recommendation – 9 lbs

Maximum weight recommendation – 70 lbs
---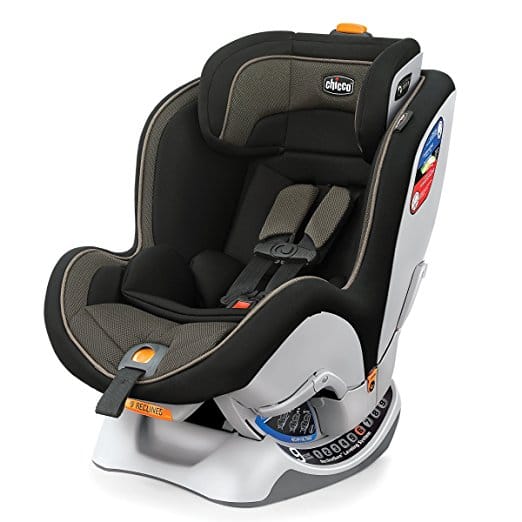 Chicco already has an infant car seat with the KeyFit. But the NextFit can do the work just as well thanks to the infant inserts. Plus, it's convertible to forward-facing mode.
It has 9 recline options available so it can fit in just about any type of vehicle. You can also rest your mind at ease as your child is getting the most comfort since the headrest is adjustable up to 6 different levels.
It doesn't fall behind as well in the safety department with its SuperCinch system. This system allows you to get the tightest, most secure connection possible.
Although it can fit a wide variety of vehicles, it's a bit on the bulky side which might be an issue especially if you have multiple kids.
Additional Specs
Car seat weight – 25.1 lbs

Minimum weight recommendation – 5 lbs

Maximum weight recommendation – 65 lbs
---

You probably noticed that the first four car seats on this list are all convertible. I figured this list The Baby Trend Flex-Loc is the top rated infant car seat which provides safe and easy installation.
It has a 5-point harness system with one-hand harness adjustment and push-button release. It also has a 4 position push-button height adjustable base and one-hand easy access seat release.
In addition, it has soft head support and an EPS energy-absorbing foam for side impact head protection.
Additional Specs
Car seat weight – 16.87 lbs

Minimum weight recommendation – 5 lbs

Maximum weight recommendation – 30 lbs
---
Your one-year-old has a long way to go before becoming ready for adult seat belts. Until then, make sure that your baby gets the most comfort and security possible. Start by getting him the best car seat, and I hope that this list helped you a lot.
---
Didn't find the Car seat you want? Check here>> Car Seats & Accessories
Or Back To>> Best Car Seats Categories
---