When you buy a stroller, you do so knowing that it will lose its usefulness in a few years or even months.
And while we want to give the best of everything to our kids, we also want to save a few hundred dollars whenever we can while still keeping the little ones safe and comfy.
Enter full-sized strollers.
They're the best strollers for your toddlers for many reasons.

First, full-sized strollers offer everything you need, aside from a voice-controlled, robotic arm assistant, lol. You can use one from your baby's birth until three to five years of age!
Like any other type of stroller, the standard variety has its cons. One, it is expensive compared to others. And two, it is heavier and bulkier.
But for a baby gear with a lot of uses, providing a shelter for your child to boot, the tradeoffs can prove worth it.
Plus:
Full-sized strollers, when handled with care, can last a long time and get rid of the need to get another one.
If you're looking for a standard stroller for your toddler, they're a good fit because:
These strollers are spacious, perfect for keeping the little one comfortable and secure while you buy groceries.
Toddlers are not yet accustomed to long walks. At the same time, they're getting bigger and heavier so carrying toddlers around will tire you down.
A standard stroller is way handier than the usual pram.
Must-have features on a stroller for your toddler are:
Front wheel brake mechanism
One-hand fold for easy storage
5-point safety harness
Adjustable canopy
Bumper bar
Reclining seat
Other functions that are nice to have but not necessary are:
Reversible handle
Child and parent tray
Storage basket
Height adjustable handle
Toy attachments
iPad / tablet hookup
I have listed here some pointers to keep in mind when buying a standard stroller for your toddler.
Base – Strollers with wider bases offer more security as they prevent children from tipping over should they look out of the sides.
Weight – Most standard models have a weight limit of up to 50 lbs. In fact, some of them can carry toddlers of up to 75 lbs.
Transportability – Yes, expect these strollers to be bulky. But at least find one that's easy to fold and store.
Adjustability – Since you'd be using it for a very long time, check if the seat openings at the front are adjustable according to your kid's girth.
Facing positions – Standard strollers offer you three kinds. It can either be front facing, rear facing, and reversible.
So, who made it as the top pick as the best stroller for toddlers?
Best Strollers for Toddlers 2017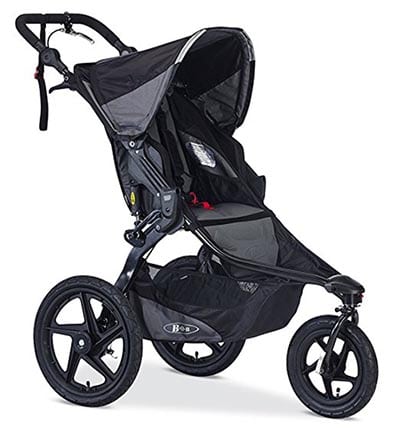 Why the Revolution PRO?
It is both a jogging and a full-sized stroller at the same time. Dubbed as an all-terrain stroller, this will surely take care of all your needs. Jogging? Not a problem. A casual walk in the park? For sure! And what about navigating through narrow aisles inside the mall? It's got you covered, don't worry.
Pair it with the BOB B-Safe 35 Infant Car Seat using the adapter (sold separately), and it transforms into a travel system. It has hand-activated rear drum brakes for easy downhill control together with an adjustable suspension system.
The padded handlebar is adjustable, up to 9 different positions for parents of all heights. The wheels? They're air-filled and high-impact polymer. And the front wheel (yes, it only has three wheels) not only swivels but locks too.
It also comes with a spacious, undercarriage basket which should be plenty enough for your groceries. You can also buy other attachments to the Revolution PRO like the snack tray or a handlebar console which comes with a tire pump.
I'm pretty sure that you now understand why the BOB Revolution PRO is our top pick for the best stroller for a toddler. You can use it from day one, and some parents found it useful for their five-year-old kids.
The only downside to this already great stroller is that the fold-up process takes two steps. Not a major issue in my book.
Additional specs:
Age range – from 8 weeks up to 70 lbs
Stroller weight – 25 lbs
And for the other ones worth mentioning too, read on.
---


The Vista Stroller is admittedly, one of the pricier strollers available in the market. But if you want to accommodate up to three kids, it's hard to beat. The stroller lets you add another seat and a standing platform.
Huge is probably an understatement when you talk about the storage basket of the Vista. It can carry up to 30 lbs of groceries, diapers, or whatever you like to put on it. Another bonus? It comes with a bassinet that you can attach to the stroller and detach later.
By the way, it's compatible with the MESA Infant Car Seat, sold separately.
It does become pretty heavy when loaded with a lot of stuff including your kid or kids. That being said, it also becomes a little hard to push and is on the bulky side of strollers.
Additional specs:
Age range – birth up to 50 lbs
Stroller weight – 27.5 lbs
---


If you're a little tight on budget, then go for the B-Agile 3 from Britax. The frame is made of lightweight aluminum and comes with a one-hand fold design for easy carrying. It has a three-wheel configuration, but it's not a jogging stroller, let me tell you. This configuration allows it to maneuver through tight spaces in a cinch.
You can use any Britax infant car seat to transform it into a travel system. No need to purchase separate adapters since it comes with them unless you'd like to use a different brand of car seat.
Unfortunately, the handlebar is not adjustable, so I suggest that you do a few pushes to check if it's compatible with your height. Another thing is that the storage basket underneath can also get a little cramped since it's not that huge.
Additional specs:
Age range – birth up to 55 lbs
Stroller weight – 18 lbs
---


One nice feature of the Armadillo is that, when fully reclined, including the footrest, the stroller stretches to 35 inches in length. It also comes with a wider-than-average seat, by the way. That, combined with a one-hand fold, makes it ideal for use with toddlers.
It's travel-system-compatible with a few car seats. But do note, that you'd need to purchase the adapters separately. For the price, you get a lot of value – a light and compact stroller that's super roomy!
Unfortunately, the handle on this one is not adjustable. And while the seat reclines, it doesn't offer a fully upright position which can be a little frustrating for toddlers.
Additional specs:
Age range – up to 50 lbs
Stroller weight – 17.6 lbs
---


The Relay Jogger is, as you may have expected, a jogging stroller. However, it doesn't mean that it's not suitable for everyday use. Think of it as a very affordable jogging stroller that you can use until your child's toddler years. It's compatible with the Graco SnugRide Click Connect 35 infant car seat if you wish to convert it to a travel system.
Being on the go is easier thanks to its mesh pocket cup holders both for you and your baby. It also comes with a zippered storage and phone pockets too. Now taking selfies with your child has never been easier, right?
The only downside? It's a little bulky and is on the heavy side compared to other strollers that we have on this list.
Additional specs:
Age range – up to 50 lbs
Stroller weight – 28 lbs
So there you have it, moms and dads! These are some of the best strollers for toddlers that are available in the market today.
While these strollers were made to last you a lifetime, I highly encourage you to check its condition regularly. Accidents are more likely to happen with worn out strollers, and we don't want any of that!
Other than that, be sure to always enjoy the time you spend with your kids.
---
---