I mentioned in an earlier post how convertible car seats are one of the most practical purchases you can make as a parent.
While an infant car seat only lasts for a few months, a convertible can accommodate your growing child for a much longer time. You won't have to look for a newer and bigger car seat, saving you time, effort, and money.
But if you prefer to use a different type of car seat after your little one's infancy, a front-facing car seat would do the job.
Don't get confused mom.
This variety of car seats goes by different names. "Forward-facing seat," "harness-to-booster," "combination seat," or a "3-in-1 (or 2-in-1) seat" – they all mean and refer to the same thing.
Front-facing car seats are similar to boosters in a sense that they lift your child's height while sitting inside your vehicle.
What sets them apart, however, is that a front-facing model uses harnesses while the boosters use the car's seatbelts.
Though most front-facing car seats are used initially with harnesses, these can be removed later on so you can use the seat as a booster (2-in-1).
So when do you start using the seat belts instead of the harness?
The answer is when your kid's body is big enough for the seat belts to fit properly on them.
And when I say properly fit, the seat belts stay in the right places across your child's body frame.
Some models start as front-facing, converts to a high-back booster, then to a backless booster later on. And they're aptly known as 3-in-1's.
One critical tip to keep in mind:
If you buy a 3-in-1 model, never skip the high-back booster mode to opt for the backless right away. It's dangerous and inappropriate in many ways.
If you already have a convertible car seat, do you need to switch to a forward-facing one?
Not necessarily. You can definitely use the convertible for as long as your kid is within the allowable height/weight limit of the car seat then switch to a booster later on.
But if you must get a front-facing model, you want to keep the following reminders in mind when shopping:
It should have a five-point harness. Some car seats use three-point harnesses, but studies have shown that five-point harnesses provide better safety.
Check for compatibility with your car. If you need to switch vehicles frequently, you want a car seat that's a breeze to install/uninstall.
Make sure your kid fits comfortably and snuggly.

If you plan to buy a 2-in-1 or 3-in-1 model, the conversion should require minimal effort.

The car seat must have a sturdy and comfy base.

Look for multi-recline options.

Go with a model that has deep side wings for added protection.

Top tether for added protection should a collision happens.
Here are my picks for the best front-facing car seats. I went with the Evenflo Securekid DLX Booster Car Seat as my best choice, and you'll find out why.
---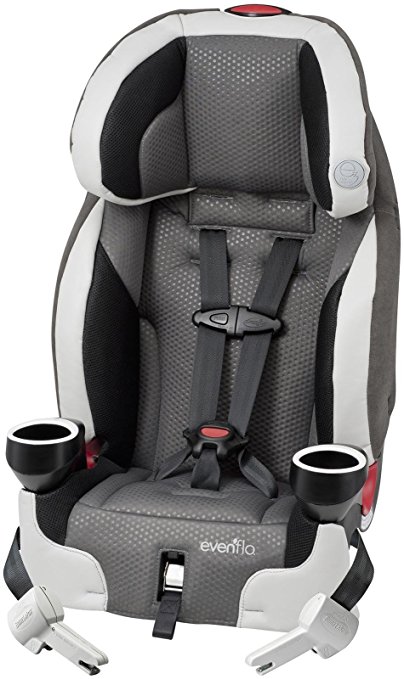 The SecureKid DLX is a 2-in-1 booster, convertible from a harnessed seat to a high back booster. Two reasons why it came out on top of the list: features and affordability.
What I love about it is the SureLATCH Technology which makes installation quick. Simply 'click, click, push', and you're done. Everything installs in as 60 seconds or less.
It also comes with e3 Side Impact protection, proven to reduce the force of a side-impact by as much as 50%. With this, your mind can rest easy that your little passenger is well-protected during your trips. This car seat, by the way, is also FAA approved so you can use it an airplane.
You also have four different options for the harness, able to accommodate your kid as he or she grows.
The same is the case with the headrest. You can adjust it with one hand depending on how your child's size. And by the way, cup holders are included, too.
Last but not the least, it has a self-adjusting belt path to ensure the seat belts stay where they should.
It could have been better if the harness on the SecureKid DLX has pads on them. Unfortunately, it does not.
Additional Specs
Car seat weight – 7.4 lbs

Minimum weight recommendation – 22  lbs

Maximum weight recommendation – 110 lbs
---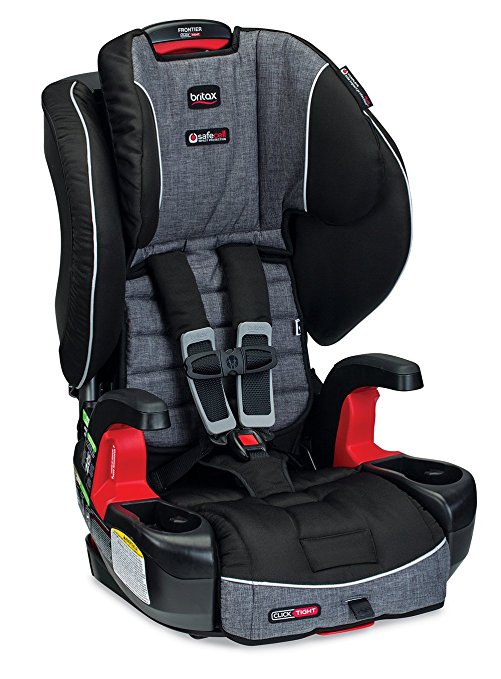 The Frontier CT is another 2-in-1 forward-facing car seat. Compared to others, its seat has a higher harnessed weight limit, particularly handy for kids with special needs.
This Britax car seat also has nine different positions available for its harness. Installation with the ClickTight system is also ABC-easy.
Britax is known for creating products packed with security features, and this one is not an exception.
It comes with SafeCell Impact protection and a steel frame, promising durability, and reliability. And the energy-absorbing shell has a deep design to protect your child from side impacts.
Additional Specs
Car seat weight – 24.9 lbs

Minimum weight recommendation – 25  lbs

Maximum weight recommendation – 120 lbs
---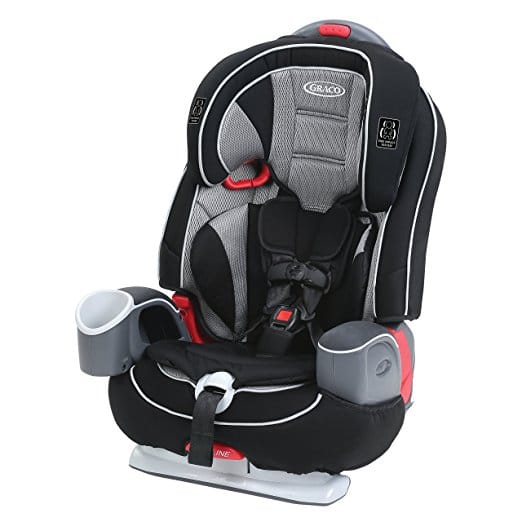 I talked a little bit about 3-in-1 models and here's one from that category.
The Nautilus 65 LX converts from a harnessed forward-facing car seat to a high back booster, and finally, to a backless booster.
So what does it have to offer moms like us?
For starters, it comes with reinforced steel frames. It didn't simply pass but crushed crash tests (pun intended). And its energy-absorbing foam also lends additional protection from side impacts.
I also like the fact that it comes with a storage compartment for your growing kid's food, toys, or whatever. The armrests also come with integrated cup holders.
Unfortunately, it comes with a few cons.
One, it's a little heavy, so switching cars could prove to be difficult. Two, adjusting the height of the harness is a bit more time-consuming compared to others. And three, the manual is missing some info about installation.
Additional Specs
Car seat weight – 20.52 lbs

Minimum weight recommendation – 22 lbs

Maximum weight recommendation – 120 lbs
---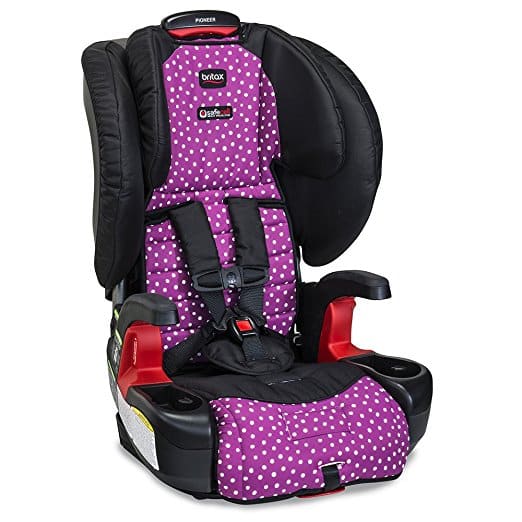 The Pioneer is an entry level, 2-in-1 car seat from Britax. It has pretty much the same features like its other sibling (Frontier), except for the ClickTight system. It might be a deal-breaker for some so I thought I'd let you know.
Since I mentioned that it has the same features as the Frontier, I'm not going to go through them again.
But a quick update:
Originally, the harness height limit on the Pioneer is 18.5 to 19.5 inches, low compared to its competitors. All models that came out in 2016 and onwards had this changed to 20.5 inches to stay on par with others.
Moms have complained about the quirky belt path of the Pioneer. While the open belt path makes installation easy, parents tend to route the belt incorrectly.
Additional Specs
Car seat weight – 21 lbs

Minimum weight recommendation – 25 lbs

Maximum weight recommendation – 110 lbs
---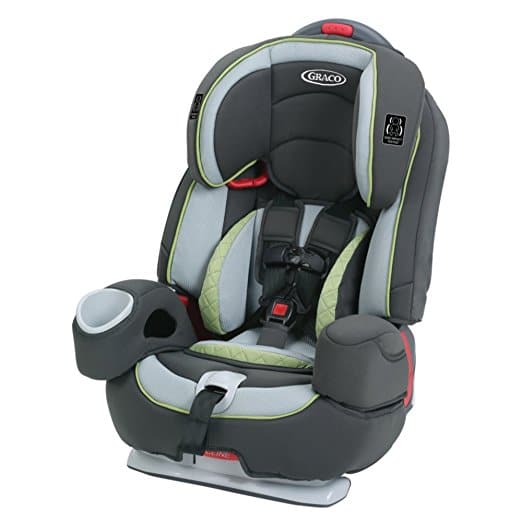 The Nautilus 80 Elite is Graco's top-of-the-line front-facing car seat. All the other Nautilus models' harnesses are rated up to 65 lbs only. The 80 Elite? It's rated up to 80 lbs!
Note that it's a 3-in-1 car seat (front-facing, high-back, backless) so you're sure that it will last you quite a while as your kid grows.
It comes with three recline positions (reclined, semi-reclined, fully upright), which require reinstalling the seat.
Nevertheless, installation of the 80 Elite is quick and easy, so changing from one recline position to another shouldn't come as a huge hassle.
The harness is thick so it's unlikely that they'd twist. The straps are also easy to tighten/loosen. Another welcome plus.
The only reasons for complaints parents have are Nautilus 80 Elite's bulky frame and weight.
Additional Specs
Car seat weight – 25.2 lbs

Minimum weight recommendation – 40 lbs

Maximum weight recommendation – 120 lbs
---
So that wraps up my guide about the best front-facing car seats up to date. But while I'm not discouraging you away from a front-facing car seat, know that rear-facing is by far the safest option for as long as possible.
---
Didn't find the stroller you want? Check here>> Car Seats & Accessories
Or Back To>> Best Car Seats Categories
---