What makes the best all-in-one car seats a great buy?
They can adapt as your child grows, able to accommodate children from birth to booster age around 7 to 10 yrs old.
Grabbing such a model can be one of the most practical and cost-effective purchases you'll make.
Without an all-in-one car seat, the scenario would be like this:
You buy an infant car seat for your newborn, a front-facing model when your baby reaches two, then a high-back or low-back booster seat.
That's just hard on the pocket!
In general, a 3-in-1 car seat is already considered an all-in-one model. It has a rear-facing mode and a forward-facing mode, and it can switch to a high-back booster using the seat belt.
All-in-one models offer the same level of adjustability – plus more. Many all-in-ones have a low-back booster mode, suitable for older children.
If an all-in-one car seat sounds like an excellent deal, here are some reminders for when you shop:
Look for a car seat that has a high rear-facing weight limit. Experts are highly in favor of having your child stay in a rear-facing position inside your vehicle for as long as possible. Having a higher weight limit, specifically for this position, is the safest for your little one.

The best all-in-one car seats come with a high harness weight and plenty of slots. These features are must-haves because the harness mode provides better protection than a seat belt and booster combined. In forward-facing mode, the harness needs to be at or higher than your child's shoulders.

Go with a taller shell. I've always mentioned that a car seat is as safe as the height/weight limit set for it. In a high-back booster, though, most kids outgrow these car seats by height instead of weight. As such, choosing a model that has a higher shell means your young one can use it for longer. If possible, also look for something that has adjustable head wings.

The high weight limit is another factor to consider, especially in low-back booster mode which is the opposite of the high-back mode.

The booster mode should let you use the lower latch belt. The reason behind this is because it adds stability to the seat as your child gets in and out of the car. It also protects you from being hit by an empty, flying booster seat during a crash.
Based on the must-have safety and comfort features above, here are my picks for the all-in-one car seat category.
---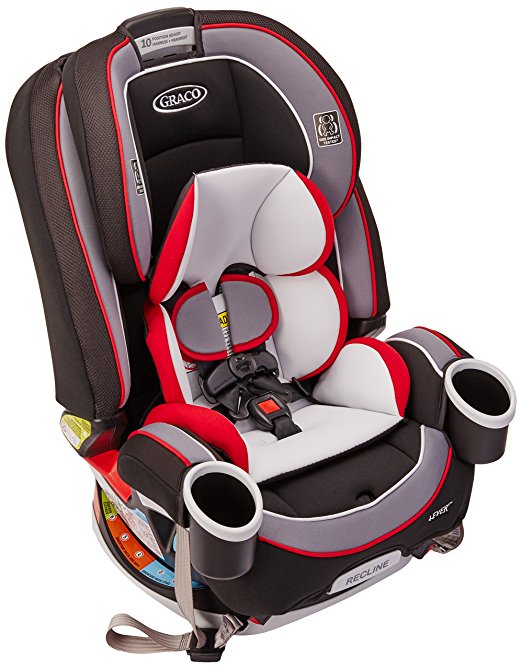 Graco's promise:
An all-in-one convertible car seat with a lifespan of 10 years!
You can use it in rear-facing mode from 4 to 40 lbs, front-facing mode up to 65 lbs, as a high-back booster up to 100 lbs, and as a backless booster up to 120 lbs.
And the Graco 4ever car seat has everything you need.
The frames are steel-reinforced to make sure that it will last you a long time. On top of meeting and exceed all applicable US standards, it has also been sided impact tested for added security.
For newborns, this car seat has plush inserts to make sure your baby stays comfy and safe during travel. Know right away if the seat was installed the right away with an easy, one-second attachment with an audio click.
The car seat also makes your life as a parent easier with its washable seat covers, which don't require rethreading of the harness straps.
The cup holders are a nice bonus, and I love the harness storage system. The latter allows you to just tuck the harness inside the car seat when you switch to booster mode.
Additional Specs
Car seat weight – 23 lbs

Minimum weight recommendation – 4 lbs

Maximum weight recommendation – 120 lbs
---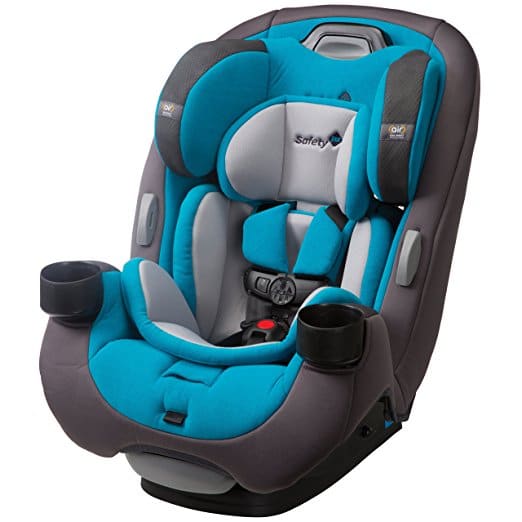 This one's also a great buy from Safety 1st. It offers rear-facing, forward-facing, and high-back booster modes. It also offers 10 years of usability as a car seat.
What the Grow and Go Air 3-in-1 can truly be proud of is the Air Protect system. In this design, the head protection wings have special air-filled compartments on them. What it does is it releases air during an impact to control the crash forces, specifically around the child's head.
It also fits nicely on a newborn because of the infant cushion. The cover is removable and machine-washable, too, for faster cleaning.
The harness also offers up to five different positions with a separate one for an infant.
I can only name a few cons about this car seat. One, it doesn't come with a sunshade. Two, some parents have found the top harness clip a little awkward to secure.
Additional Specs
Car seat weight – 20 lbs

Minimum weight recommendation – 5 lbs

Maximum weight recommendation – 100 lbs
---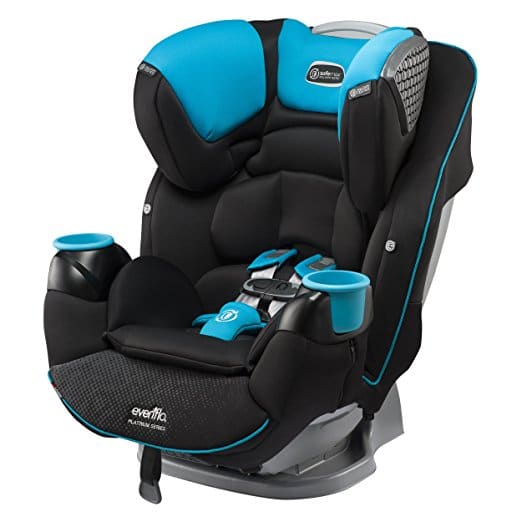 The SafeMax also offers three different modes namely: rear-facing, forward-facing, and belt-positioning booster.
It stays true to its name, donning a design built for safety and security.
It's got three layers of energy absorbing foam for superb protection, reducing side impact forces by as much as 50%.
The Evenflo SafeMax also comes with a no-rethread harness with infinite adjustments. So you can always put it right where they should be – around your child's shoulders.
The cover also uses Outlast Technology fabric helps regulate temperature, keeping your baby comfy at all times.
The integrated cup holders are also an excellent addition.
On the other hand:
I highly suggest that you check first if the SafeMax will fit your car. It would appear that it's too big to fit smaller vehicles. Also, switching to booster mode can prove to be a little tough.
Additional Specs
Car seat weight – 25.3 lbs

Minimum weight recommendation – 5 lbs

Maximum weight recommendation – 120 lbs
---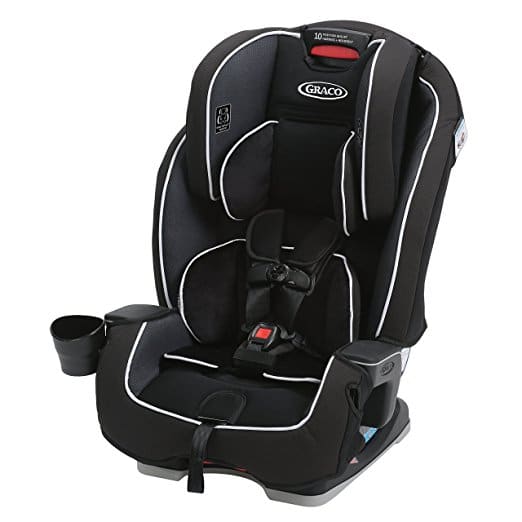 Unlike its other brother (Graco 4ever All-in-One), this car seat skips the backless booster mode.
Still, the Graco Milestone is a good buy, and a good fit not just for infants but for older kids, too.
It comes with infant padding, infinite-adjust harness, and the four recline (two for rear facing and two for front-facing) options.
This car seat has been tested for side impact and comes with deep head wings for additional protection around the head.
And like its brother, this Graco car seat has a harness storage option available. This is a really nice feature especially for parents who want to use the car seat again for another sibling. This way, you know that all the pieces of the harness are still together and didn't get lost in the storage.
The lack of a backless option might be a con to some. Also, it doesn't have a lock-off device for installations with seat belt.
Additional Specs
Car seat weight – 20 lbs

Minimum weight recommendation – 5 lbs

Maximum weight recommendation – 100 lbs
---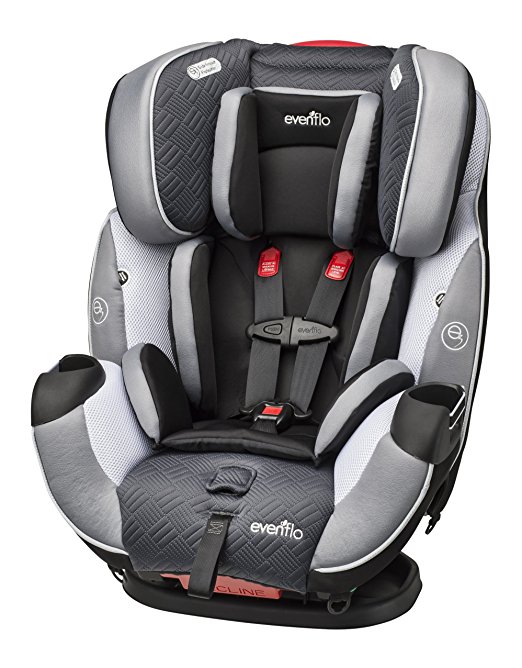 If there's anything where the Evenflo Symphony truly shines as a car seat, it will have to be in the installation department.
It uses exclusive and auto-retracting sureLATCH connectors, allowing you to install it in as easy as two steps.
Just click the latch to your car, tighten, and you're done in less than a minute. You can use it as an infant car seat (from 5 up to 40 lbs), a front-facing car seat (up to 65 lbs) and as a booster (up to 110 lbs).
It also boasts an upfront, multi-position recline that you can adjust for your child, even if your little one is sleeping.
Best of all, this car seat has an e3 Side Impact protection that minimizes the impact by as much as 50%.
Unfortunately, parents have complained that their babies head tend to slump forward while sleeping on this car seat.
Additional Specs
Car seat weight – 21 lbs

Minimum weight recommendation – 5 lbs

Maximum weight recommendation – 110 lbs
---
And that's a wrap for the best all-in-one car seats!
These models an excellent buy no doubt. But remember that it isn't your only option. Whichever type you go with, however, be sure to check the instruction manual to properly install the car seat.
If you think you need more help in doing the installation, ask for a professional's help. No matter how good the car seat is, disaster awaits if it's improperly installed.
---
Didn't find the stroller you want? Check here>> Car Seats & Accessories
Or Back To>> Best Car Seats Categories
---