Choosing a car seat for a newborn is one of the essential purchases a parent will make.
A newborn's delicate and fragile body is vulnerable to sudden impacts. And if taking car trips is part of your routine, bumpy rides will happen one way or another.
And let's not forget vehicular accidents. Collisions can occur without warning even to the most careful drivers.
So be prepared at all times. Keep your baby safe and secure with a reliable car seat.
You have a lot of options depending on your needs and how you intend to use the seat.
For newborns, however, rear-facing models are the best and the safest choice.
Rear-facing car seats often come into categories. Some are made for especially infants while others are convertible.
The issue with strictly infant car seats is that your baby will outgrow it, after which you'll have to get a forward-facing model to accommodate your growing child.
On the other hand, a convertible model can provide value and safety until your child is all grown up. These all-in-one car seats can function in a rear-facing mode, forward-facing, and as a booster seat.
But do note:
Many parents still prefer an infant car seat as it allows them to take the baby to and fro without having to wake him or her up.
An infant car seat has a base installed inside the car, but the actual seat is removable.
Convertible car seats, on the other hand, require installation, meaning you can't take it out of the vehicle quickly.
Now if you plan on walking around a lot with your newborn, then you can consider a travel system. The system is compatible with a stroller. So if you need to go out and, say, shop for groceries, you just remove the car from the base and transfer it to the stroller.
The following are the things that you need to remember when shopping for an infant car seat:
Comfort – A well-padded seat with enough head support is an excellent choice. Plus points if the materials used are breathable and don't trap the heat inside.
Security – All car seats have more or less the same level of safety features. Before a seat gets into the market, it has to go rigorous safety tests and inspection according to Federal standards.
Fit – Take some measurements first to make sure that the seat would fit well inside your vehicle. Take into consideration the room needed not just for the baby but the other passengers, too.
Now that you've taken into account the things to look for in a newborn car seat, time to shop for one. You can check out the following car seat models that I've listed starting with my top pick.
---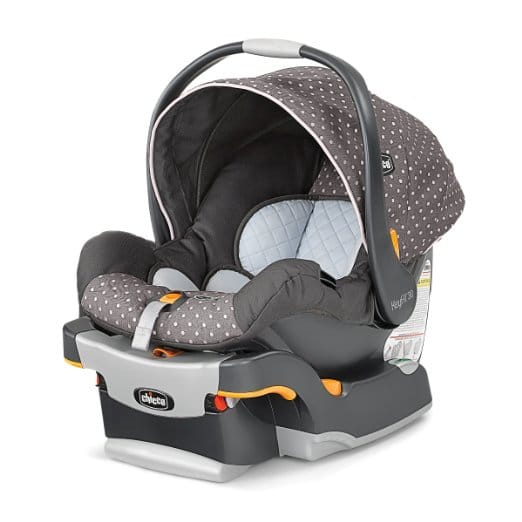 The reason why the KeyFit 30 got the top spot is that it is one of the easiest car seats to use. Installing the base and the car seat is as easy as 1, 2, 3 and the instruction manual included is easy to follow and understand.
If you want to convert it into a travel system, you can purchase the KeyFit Caddy stroller frame.
But if you want a different stroller to go with the car seat, your options are not limited since it's also compatible with other stroller frames.
Oh, and if you need another base for a different car, you can get another one separately. It's also FAA approved so you can take your baby with you on the plane to see grandma.
The seat interior is lined with EPS foam for protection from impacts, while the SuperCinch system to ensure that you get a secure and tight fit all the time.
Smaller babies are also well-covered thanks to the infant insert. And for added protection from the sun and other elements, the canopy that's easily adjustable.
The KeyFit 30, to me, is just perfect in all aspects that finding a con turned out to be a really tough task. If one exists, it's probably just the cover. It is removable but doing so can be a little tricky. But once you get the hang of it, everything else is smooth sailing.
Additional Specs
Car seat weight – 17.2 lbs

Minimum weight recommendation – 4 lbs

Maximum weight recommendation – 30 lbs
---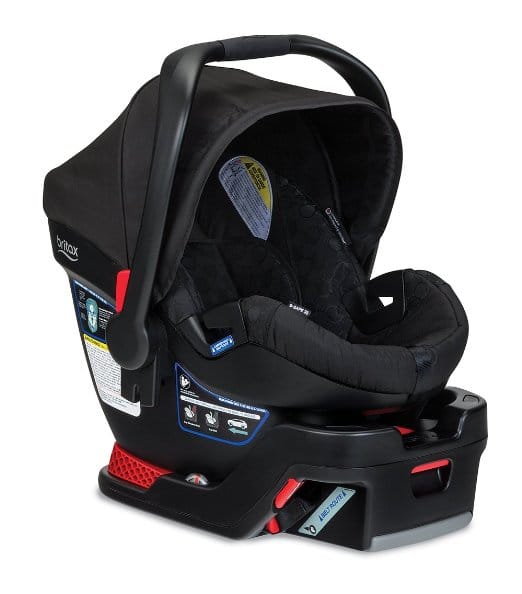 Where the B-Safe 35 from Britax truly shines the most is probably in the safety department.
Its patented SafeCell Impact Protection is a system with a steel frame paired with a base that compresses if there's an impact.
This car seat also comes with a deeper seat with higher side walls lined with impact-absorbing foam for added protection.
Compatibility-wise, you can use any Britax stroller to transform it into a travel system. Just make sure that it is equipped with the Click & Go adapter system. If not or if you want a different stroller, you may have to buy another type of adapter. A separate base is also available for purchase.
If you're using the car seat without the base, however, you may need something like a towel to get the right angle. The buckle can also be quite difficult to move from one position to another.
Additional Specs
Car seat weight – 19 lbs

Minimum weight recommendation – 4 lbs

Maximum weight recommendation – 35 lbs
---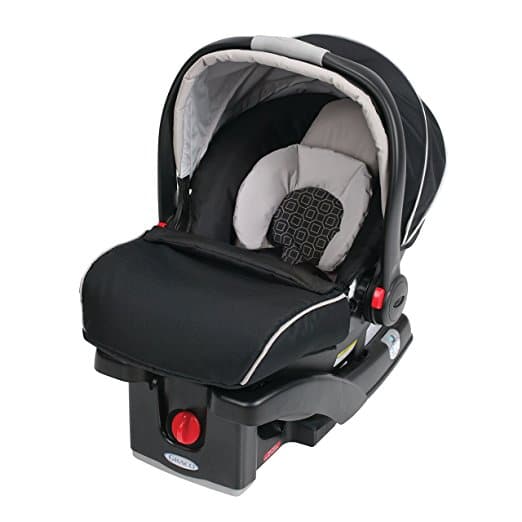 I did mention, that versus a convertible car seat, an infant car seat is better in the sense that it can be being removed from your vehicle while your little angel is sleeping in it.
But what if you have a heavy baby dozing off in the seat while you hand-carry it? That can be tiring for sure.
Well, the SnugRide Click Connect 35 may just be the car seat that you're looking for. No more aching arms and the attractive and budget-friendly price tag only makes it better.
Need a travel system? This car seat is compatible with all Graco Click Connect strollers. And if ever you'll need another base, there's always one available too.
Quick trivia: the term Click Connect came from the audible 'click' you hear after installing the car seat correctly. Simple indeed.
I have to admit, the 'click' system is simply fantastic. However, I would still advise you to always double check if the car seat is securely connected. Doing so shouldn't be too hard a task.
Additional Specs
Car seat weight – 7.5 lbs

Minimum weight recommendation – 4 lbs

Maximum weight recommendation – 35 lbs
---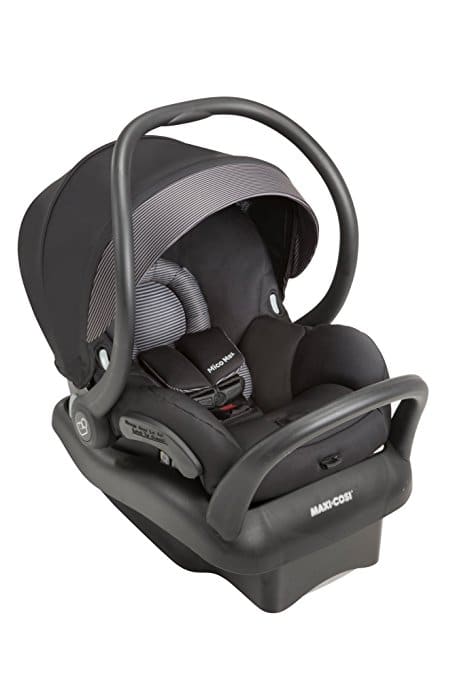 Maxi-Cosi is one of the most popular European car seats brands. Sure, US standards differ from their European counterparts. But you can rest easy knowing that the Mico Max 30 is indeed, a premium car seat.
This Maxi-Cosi car seat with a thick EPP foam which is more durable and less likely to crack than the usual EPS foam. The cover and the seat pad are easily removable (and washable), without the need to take off the harness and straps.
The bonus:
The fabric on this car seat is self-wicking. It deodorizes and draws liquids away from your baby's skin to keep him dry and comfy while traveling with you.
Unfortunately, this premium car seat has its cons too. There is a compatible stroller available separately. But if you want to pair it with a different one, you'd need to purchase the adapters. Moreover, it has no recline angle indicator on the base unlike with most car seats.
Additional Specs
Car seat weight – 20 lbs

Minimum weight recommendation – 4 lbs

Maximum weight recommendation – 30 lbs
---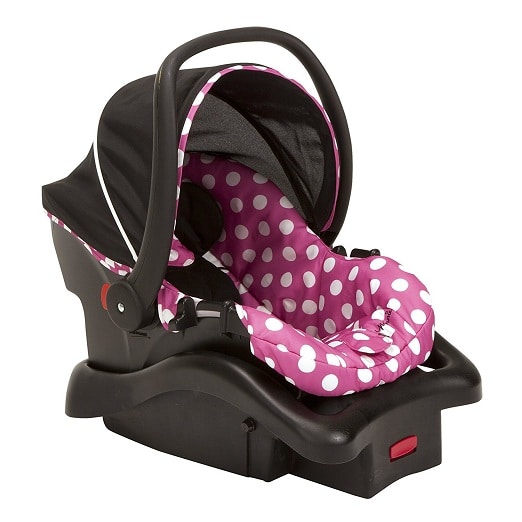 Want a Disney-inspired car seat? Enter, the Minnie Dot.
It's a straightforward car seat. One that gets the job done. What makes it attractive aside from the design (which by the way, is more suited for baby girls), is the affordable price and its lighter-than-average weight.
The Minnie Dot has, more or less, the same features as other car seats.
It's got side impact protection, removable head and foot rests, a 5-point harness, and a canopy for sun protection. Lastly, it's also FAA approved so you can travel by air with your bundle of joy.
Some of the downsides, however:
One, the Minnie Dot can only accommodate babies up to 22 lbs. Two, although the car seat can latch to any stroller, you'd need to check and consult with your retailer first before you go on about it.
Additional Specs
Car seat weight – 14.8 lbs

Minimum weight recommendation – 4 lbs

Maximum weight recommendation – 22 lbs
---
And that wraps up this guide on the best newborn car seats for our cute, little passengers.
Again, all car seats are safe, and your choice will ultimately depend on your needs and preference. What's most important is for you to install them correctly. Other than that, I certainly hope you enjoy every bit of time you spend with your cute angels.
---
Didn't find the stroller you want? Check here>> Car Seats & Accessories
Or Back To>> Best Car Seats Categories
---