By the time that your child turns 3, he would have outgrown his toddler car seat. He's almost ready to take on your car's seat belt. Almost. What he needs is a booster seat to use the seat belt of your vehicle.
If the car seat that you bought is an all-in-one (convertible type), it would have saved you the trouble of getting a new booster seat. If not, then read on so I can help you find the right one.
You would know if your child is ready to switch over to a booster seat if he's already met the height and weight limit of his toddler car seat.
The primary function of a booster seat is to simply lift your child's height while he's riding inside your car. As you know, your car's (and all cars for that matter) seat belts were designed to fit an adult's body, not a kid's.  A booster seat is needed until he's 8-12 years old or until the car's seat belt naturally falls over his shoulders and lap, which is where they should be.
Boosters fall under two categories – a high back booster and a backless booster.
The difference?
A high back booster is composed of the seat and the back part while a backless booster is just the seat itself.
Oh, and price-wise, backless boosters are less expensive too compared to their counterparts.
Ideally, boosters sit in the back passenger seat without having to be tethered down. However, some models come with connectors that attach to your car's anchors, keeping the booster attached to the seat securely.
Take note:
An empty booster seat can be extremely dangerous if it's not tethered down when a collision happens.
Before I go on with the best booster seats for your 3yr old, here are a few things that you need to consider:
Safety –

The safety of our little passengers is, of course, our utmost priority. But worry not as all car seats have undergone different tests and have passed current safety standards. If not, they wouldn't even make it the market. Still, double check these safety features is never a bad idea.
Adjustability –

Boosters are the last car seats your kids will use. As such, you have to make sure that your 3-year-old can use it until such time that he no longer needs it. You want a booster car seat that will grow with your child.
Comfort –

By the time that your little one is ready for a booster, he would be moving a lot, trust me. The harness or belt should keep him still. But not up to the point that he feels uncomfortable. Look for something that's well-padded and if possible, has cup holders or other extra features.
Finally ready to buy that booster seat for your little one? Check this list that I've compiled for you.
---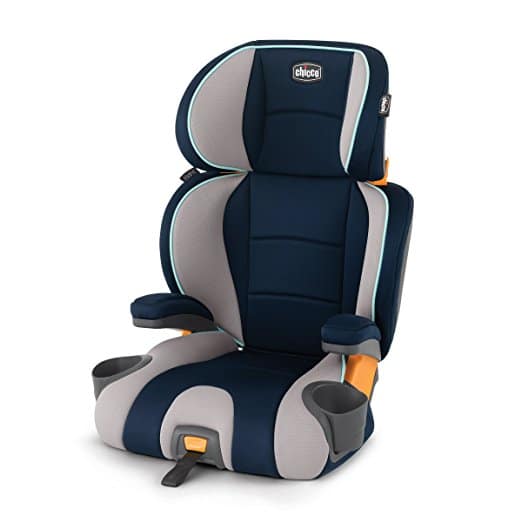 Chicco is known for making reliable and easy-to-use baby products and the KidFit is not an exception.
Installation is super-easy thanks to its SuperCinch system together with the clear instruction manual.
It promises to grow together with your child, thanks to the 10 height positions offered.
And when your little man finally outgrows it, simply snap off the back and turn it into a backless booster (hence the name 2-in-1).
You'd be glad to know that it also comes with easy-to-use lower LATCH anchor attachments to keep not only your kid safe but the other passengers too. Another bonus would be the removable cover that's machine-wash safe.
In the safety department, it comes equipped with thick energy-absorbing EPS foam on the headwings. The shoulder belt guide also works fantastic in keeping the seat belt in place.
Did I also mention that it has two cup holders that fold away when not in use to save space?
They're also removable so you can clean them easily.
Unfortunately, it's not as tall as other booster seats. As such, there's a possibility that you'd need to either buy another one or convert it to a backless booster provided that your child's ready for it.
Additional Specs
Car seat weight – 10.2 lbs

Minimum weight recommendation – 30  lbs

Maximum weight recommendation – 110 lbs
---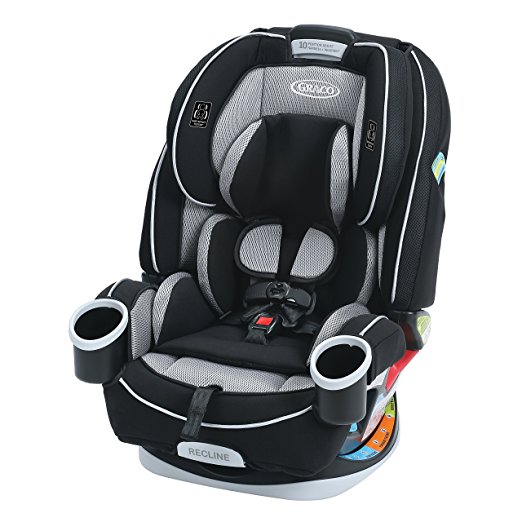 If you still haven't found the car seat for your soon-to-be-born child, you might want to consider Graco's 4ever All-in-One convertible car seat.
Or if you're already using this, you're not going to have to face the problem of having to look for another car seat to transition your child into.
This convertible car seat is a must have if you plan on saving time and money in the long run.
You can have your newborn use it from day one, change it to front-facing mode when he's ready, then finally convert it to a booster seat at three.
It can even turn into a backless booster. So technically, it's got everything taken care of for you.
It may be a bit pricey. But if you consider the fact that this will be your child's first and last car seat, it's definitely worth the money.
Do note:
Tightening the harness especially in rear-facing mode can be a little difficult to do, take note of that.
Additional Specs
Car seat weight – 23 lbs

Minimum weight recommendation – 4 lbs

Maximum weight recommendation – 120 lbs
---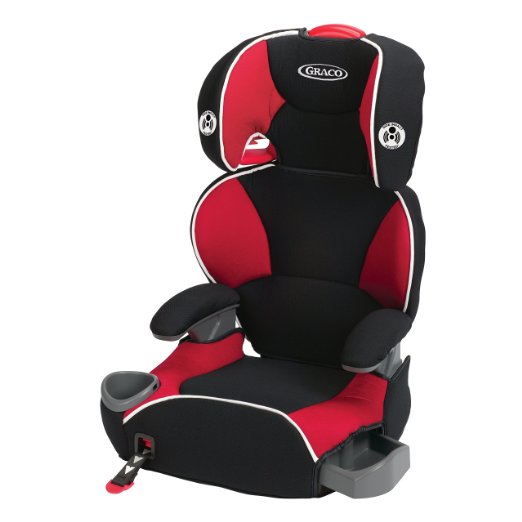 Another great product from Graco is the Affix Youth Booster seat.
It comes with two modes – high back and backless booster mode. And it includes the LATCH system, allowing for easy installation in any vehicle.
It's so easy that you can even do it with one hand thanks to the front-adjust system. What I also liked about the Affix are the integrated cup holders so your little passenger's snacks and drinks are within arms reach. The hideaway storage compartment, on the other hand, works well for keeping toys or gadgets tucked away.
While the LATCH system is great, it still allows some movement after installation so that's a con. It's also not FAA approved so you can't use it during flights.
Additional Specs
Car seat weight – 9.8 lbs

Minimum weight recommendation – 30 lbs

Maximum weight recommendation – 100 lbs
---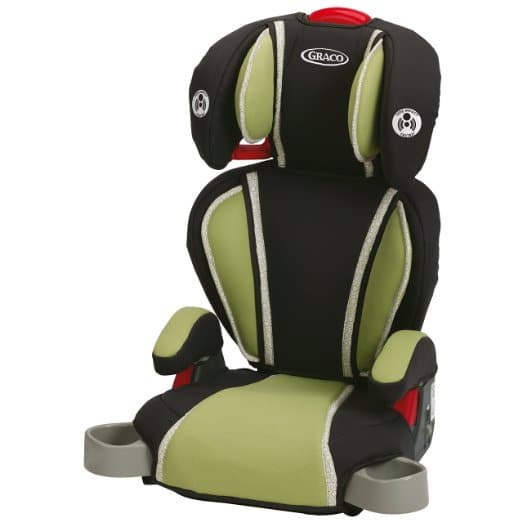 The TurboBooster is also a 2-in-1 seat so you can use both as a high back and backless booster.
It's very easy to use and install and comes with features that are more or less similar to the competition.
I have to give props to how this car seat was designed. You see, the TurboBooster has a very slim profile. So slim, that you can fit three of them in the backseat of a mid-sized vehicle. Perfect for parents with many kids!
The EPS foam takes care of impact management and a fully-adjustable headrest keeps your child secure and comfy.
Hideaway cup holders are also available to make sure that your precious passenger doesn't get bored and is always well-fed.
The only downside is that it doesn't come with latches to anchor to your vehicle's seat.
I'm not trying to scare you but a booster seat that is not tethered to the vehicle seat can be a flying projectile during crashes, which can be dangerous.
Additional Specs
Car seat weight – 9 lbs

Minimum weight recommendation – 30 lbs

Maximum weight recommendation – 100 lbs
---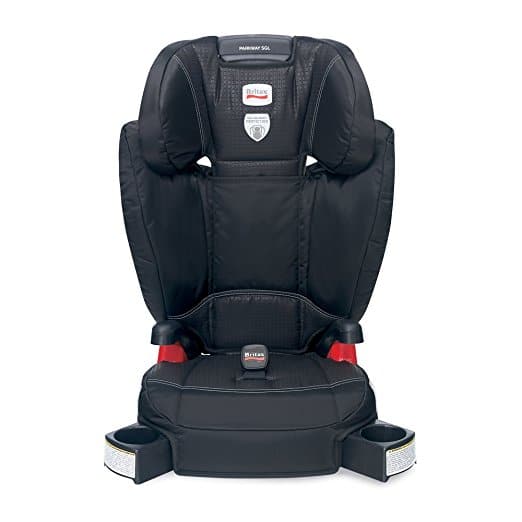 The Parkway takes pride in Britax' SafeCell Protection, like almost all of the car seats that they have made.
In simpler terms, this system surrounds your child with safety components that work together. It is made with a steel frame, a shock absorbing base, and two layers of energy-absorbing foam on the sides. It's like Britax is saying, 'What more can you ask for?'
Aside from the protection system, the Parkway also has a clip which ensures the lap belt prevents your child from slipping under in case of an. And that's on top of the LATCH system.
The rest of its features are pretty much standard like retractable cup holders and a 2-in-1 mode (high back and backless).
It's just a bit expensive compared to the others on this list.
But if you think about its safety features and all the extras, it's still a fantastic buy.
Additional Specs
Car seat weight – 16 lbs

Minimum weight recommendation – 40 lbs

Maximum weight recommendation – 120 lbs
---
To be honest, high back boosters are more preferred than backless boosters. But that doesn't necessarily mean that they're safer. The fact of the matter is, they're equally safe for you and your child. What it all comes down to is your preference and the size of your car.
---
Didn't find the stroller you want? Check here>> Car Seats & Accessories
Or Back To>> Best Car Seats Categories
---