Finding the best stroller for your baby is a tough task for sure, especially for new parents. You have to take into consideration a lot of things before deciding to buy one for your baby.
The good news: there are a lot of options to choose from. The bad news: since there are a lot of them, finding the perfect one can be a little tricky.
This guide will focus on the best lightweight strollers.
Standard strollers offer the most features and functionality. But with all the good stuff they pack, their bulkiness and weight make these strollers harder to move around and store.
Lightweight strollers have come a long way from your basic umbrella models. You might get them mixed up with standard strollers but don't be confused. The main difference between the two is that lightweight strollers weigh around 15 to 19 pounds. On the other hand, full-sized strollers are around 20 pounds or more.
Lots of parents opt for lightweight strollers. And why not? These strollers offer most, if not all of the convenient features standard strollers have, minus the weight. And, they cost less too!
Aside from being cost-efficient, lightweight strollers are also more compact and easier to maneuver compared to their bigger brothers, making them an ideal travel or backup stroller. Storage is also not a big deal since most of them fold pretty easily.
Factors to Consider in Choosing a Lightweight Stroller
One thing to keep in mind before choosing a lightweight stroller — most of them are suitable for babies six months and older. However, some models have provisions for car seats, making them suitable even for newborns.
Size
The biggest advantage of a lightweight stroller is its compact size. However, don't settle for something that is too small unless you are willing to give up features like storage space or sunshades.
Choose something that is moderate in size but still gives you what you need.
Weight
While it is true that a lighter stroller is easier to move around, don't jump ahead and grab the lightest one. A very light stroller can sometimes feel flimsy. Make sure that it's uncompromising despite the lighter weight.
Note: some parents think that lighter strollers are made of non-durable materials. That's not entirely true.
Age and Weight Limit
While most strollers provide age ranges to determine the suitability of usage, go with the weight limit as your primary guide. Also, if your 6-month old baby is still unable to sit independently, you might want to wait a couple of months before putting her into a lightweight stroller.
Wheels
Ensure the wheels have good traction. It's much better to choose one with grooves on the wheels. And one more thing, lightweight strollers typically have smaller wheels on them so make sure that they can stand to your child's weight despite the size.
Things to Look for in a Lightweight Stroller
Adjustable Handles – You can change the stroller height depending on who's pushing.
One-hand Fold – You can hold your baby and close the stroller at the same time.
Frame Lock – Check that the stroller's frame locks into position naturally and that this mechanism prevents it from accidentally collapsing.
Optional Features
Umbrella Fold – For easy fold and compact storage.
Shoulder Strap – To carry the stroller when not in use.
Child Tray
Storage Basket
With the must-haves and nice-to-haves out of the way, let's now look at my top pick for the best lightweight stroller.
Read on.
---

You'd be amazed by the Baby Jogger City Mini, that's for sure. This stroller has nearly all the features you can ask for in a lightweight model: easy to fold even with one hand (lift the strap and you're done) and storage is a breeze with its slim profile.
What makes the City Mini great is its neat combination of mobility, compactness, and functionality. It's got a huge UV 50+ canopy to ensure that your little one is protected from the sun. The seat reclines to a near flat position and comes with a retractable weather cover for added protection from elements.
The front wheels can swivel too for easy maneuvering especially when you're inside the mall or strolling through tight spaces. By the way, both the front and rear wheels can be locked as well for added security.
You can also transform the City Mini into a travel system in seconds. With the Baby Jogger Car Seat Adapter Single (sold separately), you can turn it into a reliable buddy while you're on the move.

---
Now here are the runner-ups.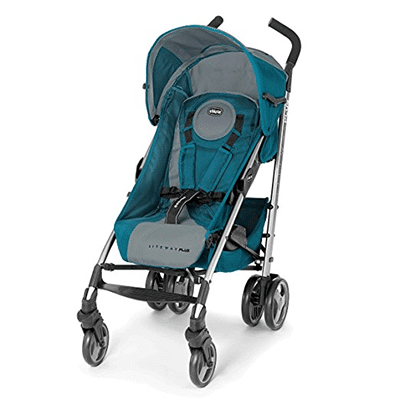 The biggest advantage of this stroller is the fact that you can use it from day one. That's right! This mini jogger is suited for newborns since it has a provision for a car seat. Just snap the Chicco Keyfit 30 and you're good to go. It's a separate purchase, by the way.
The adjustable seat has five positions to choose from which is nice especially when your baby can sit by himself. There's also a bonus cup holder which can fit any standard sized bottle or mugs.
The only cons that the Liteway Plus has is that one, it's not really that lightweight at 19lbs. The other con that I found is that it's still pretty long when folded so it's not possible to fit in any mass transit storage compartment.
But make no mistake:
This lightweight stroller is still a great buy, especially for its price.
---

If you are on a tight budget and want the basics covered, then look no further. The Graco LiteRider Click Connect Stroller brings all the essentials in a traditional stroller but at a budget friendly price.
You get the roomy, drop-down storage basket underneath, a child's tray, and a parent's tray with two cup holders and a storage compartment.
Use it from day one by attaching the Graco SnugRide Click Connect (separate purchase) and it's the perfect travel system.
The only con is the way that the wheels were made. They swivel but unfortunately, it's a little hard to maneuver compared to the other ones on this list.

---

At only 11 lbs, few models are as portable and easy to carry as the Maclaren Triumph. Despite the weight, this pram dons a sturdy build so rest assured that your baby gets a comfy and safe ride.
It's got a large, waterproof UPF 50+ canopy and a wind-resistant rain cover for added protection. You'd also feel secure knowing that your little one has no chance of unbuckling the harness. You have to press both sides and back of the harness simultaneously for it to release.
Unfortunately, you'd have to wait until your baby is at least six months to use this. It doesn't have a car seat adapter which can be considered as a con.

---

The Nano is a great partner for parents who are always on the go. It folds and fits into any carry-on compartment, while the shoulder straps make for hassle-free and hands-free carrying. It also has an attached universal car seat adapter which is compatible with most infant car seat brands.
The plus? It has a really cool feature once your kid is a lot older. You can connect the [amazon_textlink asin='B01M2ZMQWE' text='Freerider Stroller Board' template='ProductLink' store='babylic00-20′ marketplace='US' link_id='0fbe489f-67cb-11e7-a4a8-354f169907b2′] (separate purchase), which is a scooter that kids can push on their own.
Unfortunately, it makes use of both your hands to fold. It can be a con to some, but again, it's up to you to decide.
So there you have it. These are some of the lightweight strollers that most parents buy and it should serve as a guide when buying your own, especially for first-timers.
Depending on what you need, some of the features of these strollers may not appeal much to you. However, remember that at the end of the day, what's most important is the security and comfort of your baby.

---
---