Choosing the best infant car seat for your little one can be tough thanks to a near-endless list of options. But don't worry, this guide has cut down the size of that list!
But first, what is an infant car seat?
For the new moms out there, a car seat a portable gear that mainly consists of a base and a shell-like carrier for securing your baby.
Babies are delicate most especially during their first six months. An infant's head, neck, spine, and joints are not firm yet. Keep your little angel in place and secure while you're on the go means those tender limbs stay uninjured.
Infant car seats are designed to not only secure the baby but to also shield your child from any direct impact.
Should there be a collision, the shell-shaped design of an infant car seat acts as an absorber and the harness keeps your baby snuggled. Studies have actually shown that being safely restrained during travel, reduces the risk of death or injury should there be an accident.
And for added safety:
Car seats are also rear-facing.
The most common and severe type of vehicular accident is a frontal crash. In such cases, the head is thrown forward while the body is held back because of the seatbelts. This is the case with adults and older children but unfortunately, it is not the same with babies.
Since a baby's head, neck and spine are still very delicate, a forward-facing position is extremely dangerous. In a rear-facing car seat, your little angel's fragile parts are protected by spreading the force of the impact through the back should an accident happen.
Simply put, if you want to travel with your child and keep him or her safe, a car seat is a must! And if you're looking for one, here are some important features to keep an eye for:
Look for something that offers keeps your child safe – and also comfortable.

The seat should fit well with the car that you're using, much better if it's compatible with other cars too.

Go for adjustable buckles. Oh, and make sure the buckles are quick and easy to fasten and unfasten.

As a test run, push back the seat padding as if your baby is lying on it. This way, you'd be able to gauge if the car seat is spacious enough for her.

The car seat should not be too heavy nor too light. You want something durable but also portable since you have to take the seat to and from the car.
---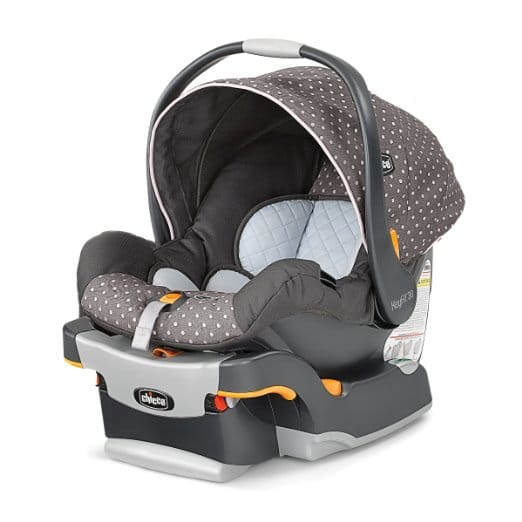 The KeyFit 30 was made with budget, safety, and comfort in mind. Compared to others, this infant car seat stands out the most. It's the number 1 rated infant car seat and for very good reasons.
For one, compatibility will never be an issue with this car seat. It's compatible with a lot of popular strollers. And on top of that, it fits with almost any type of vehicle because of its spring-loaded leveling system.
A major problem that most parents have is finding a car seat that would fit on smaller babies. You'd be delighted to know that the infant insert on the KeyFit 30 can hold smaller babies securely. It also has a 5-point harness with a one-pull tightener for easier fitting. The car seat base is a separate purchase just so you know.
Transferring your baby to and from your car is also easier with this car seat with just one hand. Once you hear that audible click, your mind can rest easy that your little one is safely secured. By the way, it also has bubble level indicators on either side of the base to ensure proper seat angle.
Finding a con was tough. If I have to point out anything, the base is actually larger compared to others, and it might be harder to fit on smaller cars.
Additional Specs
Car seat weight – 17.2 lbs

Minimum weight recommendation – 4 lbs

Maximum weight recommendation – 30 lbs
---
Maxi-Cosi Mico Max 30 Infant Car Seat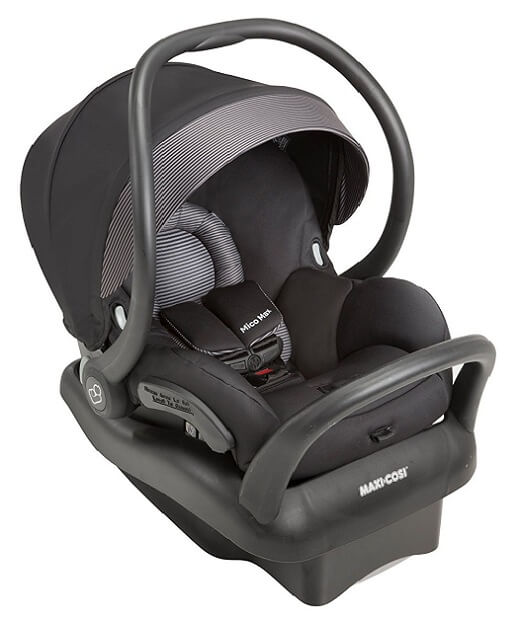 At one point or another, moms like us have faced the dreadful task of cleaning poo poos and wee wees of our kids. It's inevitable and cleaning up becomes harder if the car seat is not detachable.
Here comes the Mico Max 30! One word that word that immediately comes to my mind is 'genius'. The seat pad comes off without having to remove the harness and straps, which makes cleaning a lot easier. The seat fabric is also machine-wash safe and dryer-safe at the same time.
Another cool feature:
The fabric is also "self-wicking". What this means is that the fabric itself deodorizes and draws liquids away from your baby's skin, keeping him dry and comfy.
You can purchase the car seat base separately and if you want to convert it into a stroller, simply attach it to the compatible stroller frame.
Like the KeyFit 30, its only downside is that the car seat base is a little big to fit on smaller cars. Other than that, this one's definitely a great buy.
Additional Specs
Car seat weight – 20 lbs

Minimum weight recommendation – 4 lbs

Maximum weight recommendation – 30 lbs
---
Britax B-Safe 35 Infant Car Seat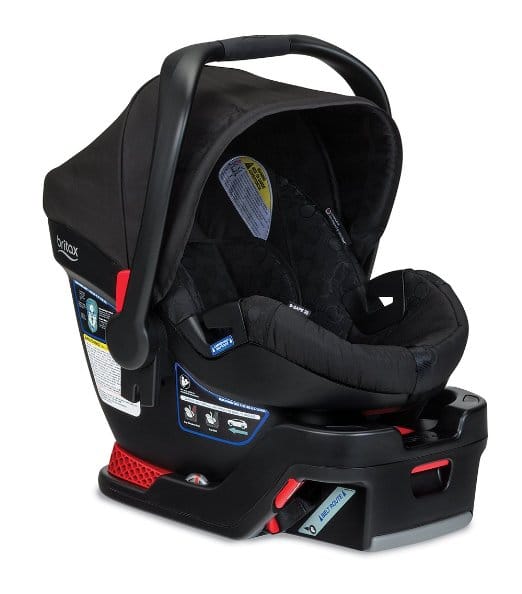 The B-Safe 35's top priority is your baby's safety and comfort. Sure, that's the purpose of a car seat. But this model from Britax is head and shoulders ahead of others as you'll see.
It's got a lot of security features to put your mind at ease while traveling. Plus, the contoured shell is just smart, taking up very little space in your car while minimizing side-to-side movement for added protection.
The shell also has a deeper seat and higher side walls. Not only that, but it's also lined with energy-absorbing foam to protect the baby from any kind of impact.
The only disadvantage this car seat has is its compatibility with other strollers. While compatible with the B-Agile and BOB strollers, you need to check if other stroller models have adapters that work with the Britax B-Safe 35.
Additional Specs
Car seat weight – 19 lbs

Minimum weight recommendation – 4 lbs

Maximum weight recommendation – 35 lbs
---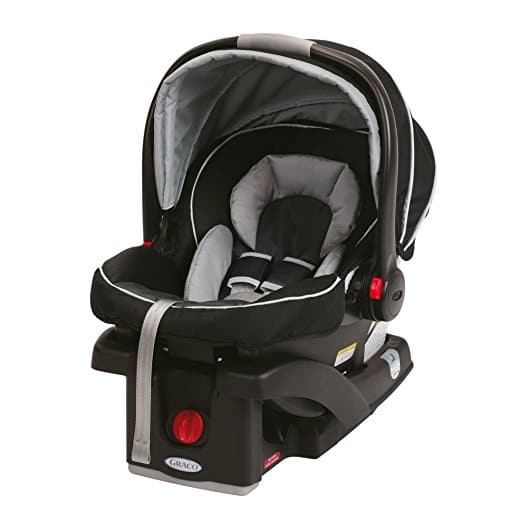 "Affordable but still gets the job done." That's probably the motto of the SnugRide Click Connect 35 infant car seat.
Design-wise, this stroller is really plain looking with nothing fancy on it. But hold your thought for a second. It has all the necessary features you need for an infant car seat with one cool feature added.
It's ultra lightweight. This car seat weighs less than half of the average weight of other models out there. Carrying it to and from the car, with your baby on it, is going to be less of a burden on your arms.
Apparently, it's on the bulkier side of car seats. That's probably because it can accommodate bigger and heavier babies.
Additional Specs
Car seat weight – 7.5 lbs

Minimum weight recommendation – 4 lbs

Maximum weight recommendation – 35 lbs
---
Disney Minnie Dot Infant Car Seat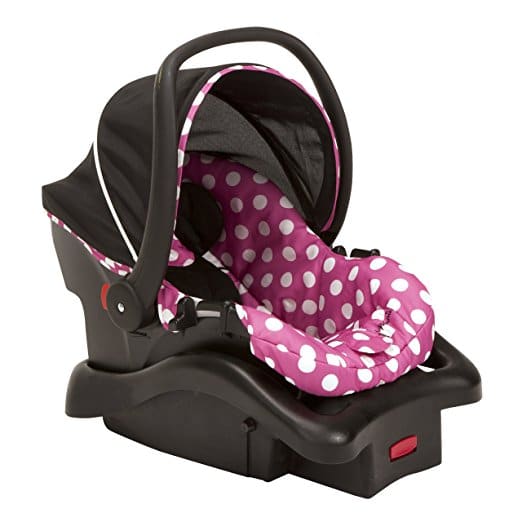 The last one on the list is another budget-friendly car seat. The Disney Minnie Dot comes with all the basic functions and must-haves, with the addition of a cute design.
Security features? It comes with a five-point harness and side impact protection. This harness, by the way, is also adjustable to give your little travel companion the best fit and keep him snugly in the seat as he grows.
It's also one of the lighter infant car seats on this list, too. This lightweight design allows for easier removal from the base and carrying it outside of your car would definitely be a hassle-free.
Unfortunately, some parts of the car seat – like the seat belt and the attachment to the base – requires you to apply elbow grease to work properly, which could be a deal breaker to some.
Additional Specs
Car seat weight – 14.8 lbs

Minimum weight recommendation – 4 lbs

Maximum weight recommendation – 22 lbs
So that's it for the best infant car seats guide. My last piece of advice to you as a mom is to always, always test the car in your car before deciding to buy it. This eliminates the problem of you finding out that the car seat you bought is too big or too small for your car to fit.
Other than that, happy traveling to you and your little angel!
---
Didn't find the car-seats you want? Check here>> Car Seats & Accessories
Or Back To>> Best Car Seats Categories
---