The perks of travel are endless.
Not only are you treated to new sights, sounds, smells, tastes, and languages. But traveling also boosts one's cognitive flexibility and depth of thought, leading to better creativity.
For blogger Mariam Navaid Ottimofiore, going places with her little ones enhanced their development, helped them become more adaptable, and instilled a love of adventure.
"Sure, travel doesn't come for free, but what is priceless are the learning opportunities and character-shaping possibilities that it provides especially for young children," Ottimofiore said in an article for the Huffington Post.
On the other hand, traveling by airplane, riding the car, and going on a cruise all have their share of security and safety risks. Injuries involving children are far too common, and you might think it's all part of traveling.
But character-shaping and learning opportunities don't need to come with broken bones, diarrhea, cuts and bruises, and other injuries. In this guide, smart parents, like you, will learn how to make trips less messy and safer for the entire family.
Pre-Travel Preparations You Shouldn't Miss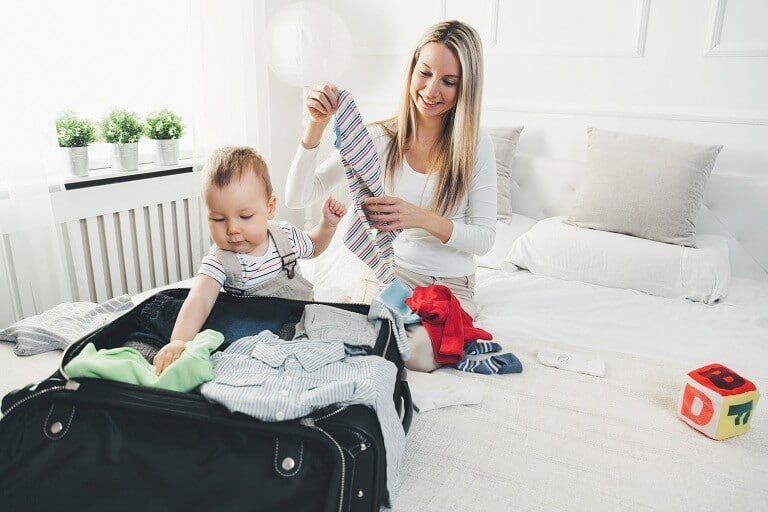 "Success depends upon previous preparation, and without such preparation, there is sure to be failure," said Confucius.
The Chinese teacher and philosopher wasn't referring to travel. But his words of wisdom are appropriate nonetheless.
Having a fun and safe trip depends largely on your pre-travel preparations. And as such, this section of the guide takes up the most space. But read on, it will be worth your while. Learn how to research your destination, prepare for health risks, plan for when someone gets lost, and more!
Research The Destination Thoroughly
Research your intended destination before booking an airline flight or tour. And by research, we mean not just looking at the attractions on offer but also learning about the health and safety risks in the region you plan to visit.
The list of potential risks to note in your research include drinking water, common diseases, local weather, crime rates, and plenty more. Start with the websites below. The following resources deliver comprehensive travel information and advice tailored to your destination.
Lonely Planet's Thorn Tree: A massive travel forum built "by travelers for travelers," It's full of practical advice from people around the world, including parents like you. You can search the forum using the search bar or browse the destinations page.
Traveler's Health by CDC.gov: Search the country you plan to visit in this section of the CDC's website, and you'll get travel-related health reminders, a list of needed vaccines, and dozens of safety tips tailored to your destination.
Alerts and Warnings by Travel.gov: Visit the website to learn of any alerts or warnings about your destination. Travel.gov issue travel warnings for destinations with potentially long-term safety risks (ex: civil war and terrorist attacks), while alerts are often issued for short-term events like elections, typhoons, and outbreaks.
Grab A First Aid Kit
If you're taking to the skies, you may not need a first aid kit as most airline flights are well-equipped to respond to most in-flight emergencies.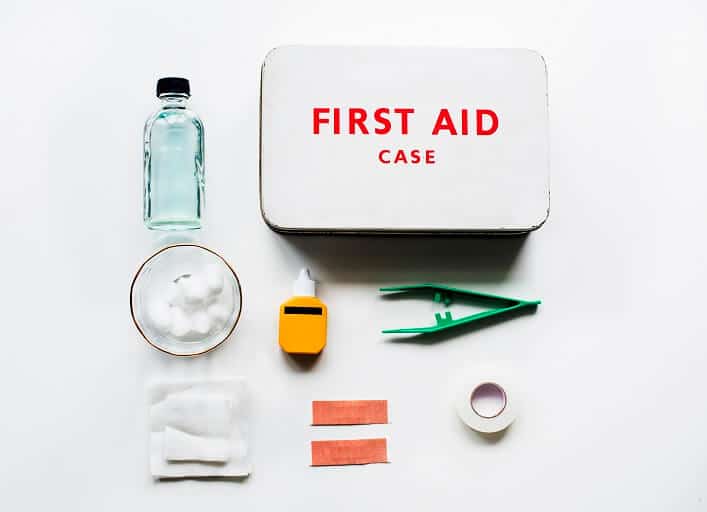 If you're going on a cruise vacation or a road trip with your child, however, bringing a first aid kit makes perfect sense. It will also prove useful for when you arrive at your destination, especially if it's outside of major cities.
You never know what your energetic little tot may run into.
Insect and animal bites, small cuts and scraped knees, motion sickness, and the like can turn an otherwise smooth trip to a bumpy one. A well-stocked first aid kit lets you respond to accidents not with frightened or nervous screams but with the appropriate basic treatment.
Take note:
What the kit should contain isn't the same for everyone. It depends on you and your child's health needs, destination, climate, and other factors.
On the other hand, you want to stock up on the essentials – stuff you want to have handy wherever you're going and whatever mode of travel you're taking.
Start with the following list:
Child-friendly painkillers: While on the road, you or your child may have to deal with pain. Ibuprofen and paracetamol are two widely available and kid-safe painkillers, and you want to have one of them in your kit.
Bandages: These are a staple of just about any first aid kit, used to bind and dress up common injuries like sores, sprains, and cuts. Note, however, that bandages of various sizes and types have different uses. For example…
Strip bandage for small cuts
Elastic bandage for muscle sprains and strain
Triangular bandage for wounds and broken bones
Gauze pads: These are similar to bandages but are meant for larger wounds. They give cuts or scrapes enough breathing room without exposing the injury to the elements. Gauze pads often come in 4" x 4" but you can cut them down to size if needed.
Medical tape: You don't want a gauze pad to come off so keep them in place with medical adhesive tape. You can also use the tape for securing standard bandages.
Antiseptic wipes: These wipes are single-use items for sanitizing and sterilizing the skin, eliminating the risk of cross-contamination. Wipe a wound or cut clean before covering it with a bandage or gauze pad.
Antibiotic ointment: Properly washing and sterilizing a wound is often enough to prevent infection. But applying a dab of antibiotic ointment, especially on larger wounds, is recommended for extra protection.
Tweezers: Useful for getting rid of splinters from the skin or removing stuff while cleaning a wound.
Scissors: You will need to cut bandages and adhesive tapes when treating an injury. A small pair of medical scissors lets you do so without any hassle.
As mentioned earlier, the items above are the essentials. You will need to carry other medical supplies depending on the destination as well as the health and safety risks your family is likely to encounter.
In the next subsection, we'll look at the most common diseases in young travelers as well as some prevention and treatment tips. Armed with this information, you can tailor your first aid kit so it suits you and your child best.
Prepare For Common Health Problems Among Child Travelers
Traveler's Diarrhea
Known as TD for short, this type of diarrhea is one of the most prevalent travel-related illnesses especially among infants and children, with a 30% to 70% attack rate.
Asia, the Middle East, Africa, Mexico, and South America are high-risk areas for catching traveler's diarrhea. So if you're traveling to these locations, you want to come equipped with prevention know-how and basic treatment supplies.
Be warned though:
The usual advice – boiling, cooking, and peeling whatever goes into your mouth – doesn't quite cut the mustard.
Travelers who perform basic food safety practices can still catch TD so you will need to take extra precautionary steps including:
Being selective when getting food and drinks. Steer clear of uncooked and raw food as those can contain stomach bugs and harmful microbes. Salads, raw vegetables, and unpasteurized milk or fruit juices might be no-go's too, especially if you and your little one is staying someplace where hygiene and sanitation seem inadequate.
Breastfeed whenever possible if you're traveling with an infant. Doing so is one of the best ways to prevent diarrhea and other disease borne of contaminated food and water. If you have to feed your baby with formula milk, be sure to sterilize the water.
Wash those hands frequently, especially before eating, after changing diapers, and whenever your little tot's hands go to places where they shouldn't. Make sure the water you use for washing hands is potable. You may also want to carry antimicrobial soap for good measure. If hand-washing isn't possible, you can use an alcohol-based hand sanitizer for disinfection.
Be meticulous when washing bottles and other baby gear. Feeding bottles along with pacifiers, teething rings, and baby toys need a thorough washing, even more so if they fall on the floor.
On the other hand, the preventive approaches above can only reduce the risk of traveler's diarrhea but not eliminate it. So you will also want to prepare for when you or your child catches TD.
Most antibiotics, antiemetics, and antimotility drugs are not recommended for children below 12 years of age. So for managing the effects of TD, adequate nutrition and hydration is your best bet.
Dehydration is the biggest threat posed by diarrhea, and the little ones can lose essential fluids fast when left unchecked. To ensure your child is getting the hydration and nutrition he or she needs, bring packets of oral rehydration salts (ORS).
Insect-Borne Diseases
Insects like mosquitoes can spread life-threatening diseases like malaria.
You can reduce the risk of you and your child catching the illness with the help of anti-malarial drugs. Keep in mind, however, that you may have a hard time convincing your little one to take his or her dose due to the bitter taste. Not to mention malaria drugs are not 100% effective.
Worse, other diseases like dengue are also spread by insects.
For protecting the entire family from an array of insect-borne diseases, preventing insect bites is the more practical and effective choice.
Kids and parents, too, should sleep in air-conditioned rooms.
If that's not possible, at least stay in rooms with screened windows or bed nets. Enclose infant carriers or cribs with mosquito netting so your baby stays free of bug bites. For good measure, treat clothing and nets with a repellent like permethrin.
On the other hand, you'd want a different insect repellent to put on your skin.
DEET is still the most effective topical repellent, providing protection for 300 minutes and more. It came under fire when different studies showed its side effects. However, using DEET once in awhile while strictly following the directions is safe.
Note that you shouldn't use DEET-based repellents on an infant less than two months old. For older babies and children, go for the variety with 30% concentration or less.
Rabies
Children are more likely to approach and try pet stray and strange-looking animals. Curiosity is hard to resist after all!
But even the most harmless-looking animals may bite. And due to their small size, children are often bitten on the head or neck, leaving serious injuries. Worse, the bite can also lead to rabies infection.
Before going on a trip, sit down with your child and remind them to stay away from animals to avoid bites. But don't scare them with punishments, or your kid may try to hide their injury after getting bitten. Bigger trouble!
Instead, calmly assure him or her that they won't get into trouble, and tell them to inform you or another adult right away of any contact with animals.
If a child gets bitten or scratched, thoroughly wash the wounds or cuts with soap and water, and take the injured to the appropriate health professional. The child may need rabies vaccine and immune globulin. But do note that certain destinations may not have these medications available.
Sunburn
Melanoma is the most dangerous type of skin cancer.
And did you know?
Getting sunburnt even only once in two years can triple one's risk of developing melanoma.
Sunburn happens after prolonged exposure to UV rays, which we can't feel. We get heat from the sun through infrared rays.
Thick clouds can block much of the sun's heat, leaving you feeling chill and comfy. However, 80% of the sun's UV rays penetrate clouds, and people can get burnt even on a cool day!
Exposure to UV rays also increases depending on certain travel-related factors. If you're headed to a region near the equator, a high altitude area, or if you are out in the field at around 10 am to 4 pm, you're at a greater risk of getting sunburn.
To keep you and your child from getting red and burnt, use sunscreen or sunblock.
Sunscreen is the chemical variety and the recommended choice for children. It penetrates the skin and absorbs UV rays before they can do damage. For maximum protection, look for the variety that provides protection both from UVA and UVB with an SPF (sun protection factor) of 15 and up.
Sunblock, on the other hand, provides physical protection. Its ingredients, including titanium and zinc dioxide, act as a barrier which disperses and reflect harmful rays away from your skin. Some sunblocks are also water-resistant, handy for taking a dip.
Plan For When Your Child Gets Lost
Losing a newborn or infant may sound near-impossible. After all, you're carrying and keeping them close to you at all times. If you're traveling with toddlers or teens, however, you need to prepare in case they get lost.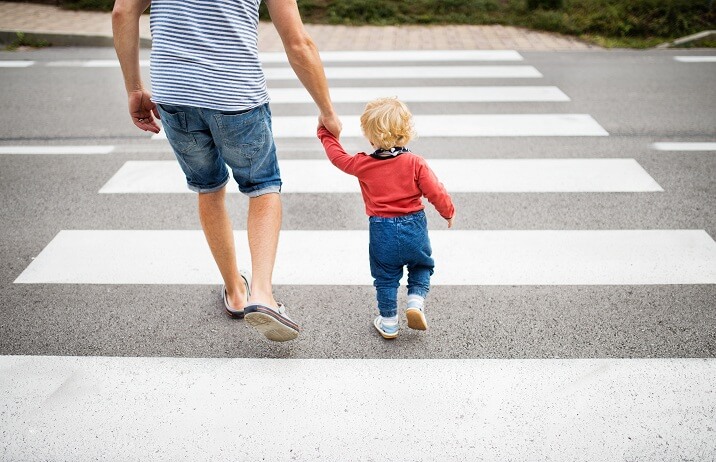 Bring a smartphone or a camera so you can take a photo of your kid before heading out to a crowded event. By doing so, you can give authorities a visual on what your child looks like. A photo also works better than describing in words what your child was wearing. Handy especially if you're in a foreign country!
Setting a place to meet if anyone was separated is also a standard practice.
However, note that, while this tip works best for teens, children 10 years old and below may find this approach confusing.
If traveling with pre-teen kids, instruct them to stay put for a few minutes instead, giving you time to find them. But what if you can't find them? Then they need to ask for help, which brings us to the next point.
Discuss with the entire family who to ask for help.
The right person to approach may differ depending on your destination. But event or building staff members, police officers, or another mom with kids can assist them when they're lost.
And another crucial tip:
Remind your kids never to exit the building or park. The parking lot is also a no-go as predators can take them from there.
And while you're at it, teach your child to shout "Help! This is not my parent" when a stranger tries to take them away, preferably in a language the locals will understand. Otherwise, onlookers may mistake screaming and crying for tantrums.
Your child may have a hard time remembering all of these safety tips. Not to mention discussing predators is heavy stuff. To lighten the mood and make crucial information stick, make a game out of your preparations.
Ask what if's (ex: "What if you get lost?") and see if your kids get it right. You can also practice looking for moms, police officers, and other people they could ask for help. Or, you can make a game out of remembering what each family is wearing that day.
Booking A Hotel? Remember These Essential Tips
"There's not a fire department in the country that can easily fight a fire above the eighth floor," said Peter Greenberg, an award-winning and respected travel news journalist. So if you're booking a hotel room, be sure to "ask for a lower floor."
For good measure, you will also want to check out the US Fire Department's of approved and fire-safe hotels and motels for travelers.
You can fill out the form at the bottom of the page to get a list of available lodging closest to your destination. Or, you can download the entire list (also at the bottom) and search it manually.
If bringing along an infant, check with the hotel if their crib meets the Consumer Product Safety Commission's standards.
In 2011, new federal safety standards were updated for the first time in 30 years. So ask the hotel staff for the cribs manufacturing date. If it was manufactured after 2011, the crib probably passed the latest safety checks. To be sure, however, ask for proof as outlined in this document from the CPSC.
Note, too, that most baby-proofing features like child-safety locks are missing from most hotels.
Bring a lot of tape. You will need them to tie up strangulation hazards like electrical cables and window cords.
You will also need a pack of plug socket covers. Make sure they're large enough so they don't become a choking hazard. And please, skip the colorful and fancy ones. They will only attract the attention of babies and toddlers.
Traveling By Airplane
With airfares dropping significantly in the recent years while hacks for finding low-cost flights abound, more and more families are traveling by air to reach their new destinations and attractions.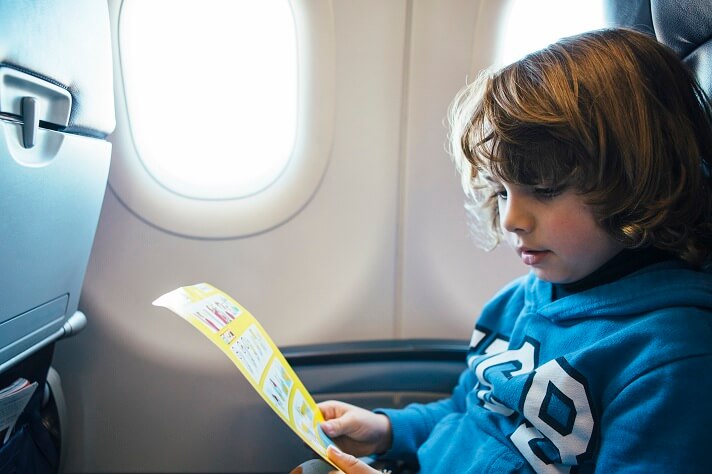 But when can a child start traveling by plane? And how do you keep the little ones safe during takeoff, landing, and while in the skies? We'll answer all of these questions – and more – in the following subsections.
Is Traveling With An Infant Safe?
Air travel is safe for most infants, strictly speaking. But know that airlines may have regulations as far as your infant's age is concerned. Some allow two-day old newborns to take to the skies, while others insist babies must be two weeks old at least.
And while flying is appropriate even at an early age, you may want to wait for a month or two.
A newborn's immune system is not as effective as an adult's or an older child's, making the former especially vulnerable to microbes. Putting a less-than-a-month old baby in a cabin full of strangers can increase the risk of catching an infection, and traveling with a sick infant is not fun!
Take the changing cabin pressure into account, too, when planning a flight.
The varying pressure in the middle ear can cause painful and unpleasant ear-popping, especially in babies with a cough or cold. So consult your doctor to know whether to delay the trip. If you must go, however, having your baby suck on a pacifier or feeding bottle can help alleviate the pressure and discomfort.
Oxygen levels also change during flight because of air pressure. Not a problem for healthy babies. But infants with existing respiratory conditions or breathing problems will likely encounter challenges.
Talking to the doctor is, again, your best bet.
Your physician may recommend supplemental oxygen or recommend against air travel until the age of one or later, especially if an infant has a history of lung disease.
Speaking of diseases, you may also want to postpone flights to places known for illnesses your baby isn't old enough to get a vaccine for. Vaccines for, say, malaria or yellow fever are unsafe for infants until they're two months old.
A Child Restraint System Is Your Best Friend
"The only thing that isn't properly secured during taxi, takeoff, landing and bad turbulence on any flight: the babies," said Melissa Roy in an article for the Huffington Post.
Cabinets are under lock and key. Bags are packed away securely. And other pieces of equipment are restrained. Crews buckle up for the flight, and so do other adults on the plane. Why not the babies?
Infants and toddlers are just as vulnerable to airplane accidents as everyone else. So when taking to the skies, make sure your baby stays safe and secure with a child restraint system. These government-approved safety devices are built to keep your little passenger in place and secure, just like seatbelts for grown-ups.
Maybe you're thinking:
"A child safety seat or harness system won't help should a plane crash, will it?"
No, even the best restraint systems won't make one bit of difference should an aircraft go down. But remember, turbulence, aborted takeoffs or landings, and ground collisions all pose serious safety risks to everyone. Unrestrained children may be flung through the cabin or smashed by the very person carrying them.
Parents have two options as far as restraints are concerned.
First on the list is CARES, the only FAA-approved harness device for kids. Also known as the Child Aviation Restraint System, the belt-and-buckle setup works together with regular airplane seatbelts, giving young passengers a higher level of security. The CARES harness is also a breeze to carry around, thanks to its ultra-lightweight and minimalist form.
The cons, however:
CARES doesn't have a crotch strap or belt. Fidgety and energetic toddlers may slide down, so be sure to keep an eye on your little one. Moreover, it's only suitable for kids big enough to get their own seat – at least a year old and weighs between 22 to 44 pounds.
Another option to consider is an FAA-approved car seat.
Sure, car seats are bulkier and heavier than a harness system. Not to mention your child doesn't get a lot of legroom in a safety seat. However, their shortcomings in the portability and space department are offset by extra safety features you won't find in a harness.
Take the Britax USA Marathon ClickTight Convertible, for example.
The 2-in-1 model not only has a 5-point harness system, the safest choice. But this Britax car seat also comes with the SafeCell Protection system, steel frames, and an impact absorbing base. Its tether also has energy-absorbing stitches to slow down forward movement should a crash happen.
Britax, of course, isn't your only option. You'll find other FAA-approved child seats from other brands. So long as you install the seat properly and it has the right label, indicating that it's tested and approved for vehicles and airplanes, you're good to go!
Be warned, though:
Flight attendants from certain airlines are not familiar with FAA's rules regarding child safety and restraint systems.
In an Air Canada flight from Toronto to Houston, a Fort McMurray mom got a scolding from the flight crew. Her violation? She put her toddler on a car seat. Worse, the crew even berated the mother, saying she's sacrificing her child's safety for her convenience!
In a recent Delta fiasco, a California couple was instructed that federal rules state 'children under two must stay in their parent's lap' – even though the parents, in this case, bought a car seat for their toddler.
Clearly, the crew got it all mixed up. A child on an aircraft-approved car seat is safe, but a lap child is not.
Avoiding such cases isn't possible 100% of the time as the cases above show. However, you can turn an onboarding argument about child car seats into your favor with the right documents. Check this section from FAA's website on flying with children.
You will want to read and print out the important documents from that page, especially the PDF on regulatory requirements for accommodating child restraint systems.
More Essential Tips For Flying With Kids
Flight safety has more to it than simply bringing a reliable car seat or belt-and-buckle system.
For starters, you will want to listen to the pre-flight emergency briefing as it will contain life-saving information on what to do in case something goes awry.
Pilots brief their passengers differently, but keep your ears tuned in for the following:
How to operate the air vents
The location of the fire extinguisher and other safety equipment
How to exit the plane in case of an emergency
How to alert the crew if you see or hear anything suspicious
The briefing, however, can't cover all-things child safety. So ask a flight attendant what and where the emergency kits specially designed for kids are located. Let the crew know if your child has special requirements or a medical condition that may become a problem when in the skies.
Speaking of requirements, keep all essential items for your little one in the carry-on luggage. Make sure the luggage is stocked with enough food, baby supplies like wipes and diapers, medicine, and other items to last the flight.
And remember…
You are responsible for supervising and keeping your little ones under control at all times.
A toddler on the loose can easily wander into dangerous areas in the plane or disturb other passengers. Children without an adult keeping them in check may also reach for hot beverages, silverware, and other safety hazards.
One last reminder:
Seat your child away from the aisle.
Children are curious and always full of energy. From the aisle, they may reach out to other passengers and carts making their way, seriously hurting their arms.
Traveling By Car
Roads in the United States witnessed vehicular crashes claim the lives of over 600 children in 2015 while injuring 121,350 youngsters aged 0 to 12 in 2014. Among the children who died in the car crashes, 35% traveled without buckling up.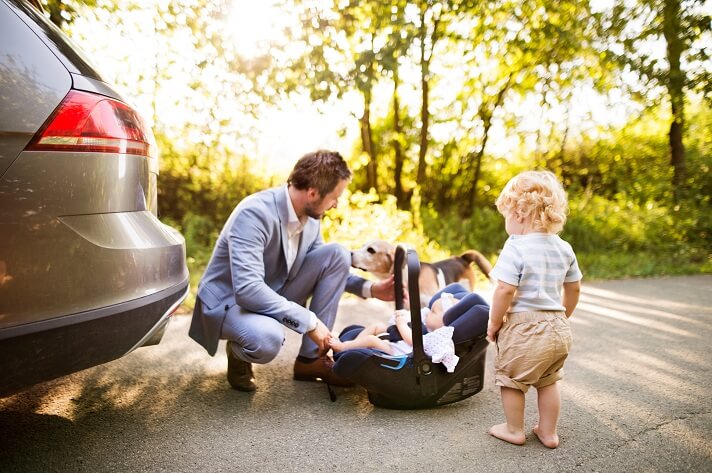 The situation in Ireland looks identical. Car crashes were less frequent. But vehicular accidents still killed 262 children between 1996 and 2012, according to Road Safety Authority. And like in the US, almost a third of the victims were not wearing any restraint system.
Car safety is a serious issue in many places around the world. But it isn't the only safety risk to watch out for when on the road with kids.
In this section, we'll look at some of the hazards you'll encounter and the precautionary measures you should take when traveling by car.
Use A Car Seat Or Don't Go
A child car seat won't guarantee safety in case of a crash, but it comes quite close. Research shows that using a car seat reduces the risk of death to infants in passenger vehicles by 71% while reducing the risk of death to toddlers by 54%.
The additional safety and peace of mind afforded by a reliable car seat are too substantial to pass up. So when planning a road trip, either use a car seat or don't go at all.
But while car seats in the United States have passed federal safety and testing standards, you can't just pick a model and roll with it.
To get the maximum protection from a child safety seat, be sure to read your vehicle's instruction manual before shopping. Doing so will inform you where the car seat should go (rear-facing in the middle is ideal) and how to install the safety device.
Even experienced child passenger safety (CPS) technicians review the car's instruction manual. So you have no excuse for skipping this step.
Next, consider the height and weight specifications of the seat.
Here are some rules of thumb to follow.
Tiny passengers – like newborns and infants – must stay in a rear-facing car seat until they exceed the height and weight limit. Most infant-only seats and rear-facing mode in convertibles are suitable for children weighing up to 30 lbs with a height of up to 30 inches.
If your child's head is above the seat and his or her shoulders are above the top harness slot, the youngster is ready to move onto a forward-facing seat.
The next security consideration is ease of use and installation. Yes, being able to use and install a child safety seat in a cinch isn't just comfortable. It also helps improve safety.
Consider this:
Only 20% of parents know how to install a car seat the right way. And among first-time parents, 93% made a critical installation error when taking their newborn home, says the Oregon Health and Science University.
Any mistake when putting the seat in place can compromise your child's safety. But an easier installation process means you're less likely to make mistakes.
Check out this section of the National Highway Traffic Safety Administration's website to gauge the overall ease of use of a seat. The database lists and rates different models – from infant-only, convertible, to boosters – based on several metrics. You can find star ratings for the labels, instructions provided, security and installation features, and more.
Never Leave A Child Inside A Vehicle Unattended
An unattended child and keys in the ignition make a detrimental combination. If the child is not restrained, he or she may start the engine and rollaway with the car. But even if the keys are kept away, leaving a child in the car by his or her lonesome is never a good idea.
The risk of heatstroke is real. And for children under the age of 14, it's the leading cause of vehicle-related deaths next to car crashes.
Cool and overcast days won't help. The temperature inside a vehicle can reach the fatal threshold quickly regardless of weather conditions. And on hot days, the temperature inside a parked car can be up to 40°C than outside.
When a car overheats, the children (and everyone) in it experience rapid dehydration and suffer heatstroke or suffocation. And, no, winding down the windows by a few centimeters won't help young passengers cool down.
So to reiterate:
Never leave a child unattended inside a vehicle.
No matter how nice the weather and how short the stop.
Since we've already touched upon the risks of overheating including heatstrokes, now's probably a good time to look at a few tips to keep your precious cargo safe and comfortable, especially during harsh and hot conditions.
Let's start with the basics:
Dress your child for comfort, not for style. If your little one needs to dress up at the destination, simply pack appropriate clothing. You should also to give your child plenty of water, especially for long trips.
Before putting your child on the car seat, make sure the parts – the actual seat, harnesses, and more – aren't too hot to the touch. Plastic, metal, and leather parts, in particular, can heat up and pose a burning hazard. So cool the car's interior before letting passengers in.
You will also want to have your windows tinted or use shades to protect your baby from the sun's rays. You can use any protective cover or hood built into the car seat, but know that they also reduce air circulation.
Keep Your Child Happy And Engaged
A bored child is almost guaranteed to try to squirm out of their safety seat. And when they realize they can't, tantrums are sure to follow. Between the ear-ripping screams and tearful cries, keeping your eyes on the road and driving safely becomes twice as hard.
Here are a few tips to keep tantrums at bay while engaging your child.
Talk to your little passenger when the traffic isn't moving or when stopping for the lights. A little chit-chat is always an excellent way to pass time and discuss what to do in your destination.
Quick stops also make for an excellent opportunity to praise and reinforce good behavior if your child is observing them. If your little passenger isn't squirming out of his or her seat and leaves the car locks alone, say "Good job!" or "I like driving the car when you're behaving properly. Keep it up!"
You will also want to bring safe toys and distractions for your child. Handheld games are always a good idea. Or, you can entertain your child with his favorite kid's songs and audiobooks.
If your child still isn't behaving properly despite trying all of the ideas above and you find it distracting, you may want to pull over to the side to soothe your child. Doing so will delay your arrival to the destination. But as they say, better late than never!
Going On A Cruise
The cruise industry is booming! About 20,335,000 people around the world take a cruise vacation every year, with about 1.6 million under-18's traveling with their families.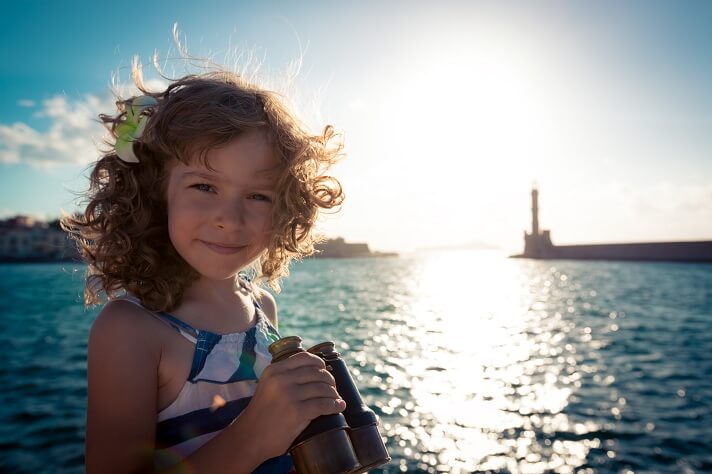 Today's cruise ships are dubbed floating cities – and for good reason. Within the vessel, you can find just about any amenity or facility a city on land has.
Entertainment hubs? Check!
Fine-dining restaurants? Check!
Casinos and bars? Check!
Venues for doing business? Check!
And the list goes on.
Throw in amazing views and destinations into the mix, and it's no surprise why the number of people going on cruises is only growing. But while living in one of these massive ships for a week sure is fun, know that you should still keep your eyes open for safety and health risks aboard.
Before Heading To The Seas
While you can get away without a first aid kit when flying (planes have a full medical kit), carrying one is highly recommended when taking a cruise. Most cruise liners carry most over-the-counter drugs and some prescription medications. The latter, however, may either be expensive or not covered by travel insurance.
Most ocean cruise ships have, at least, a doctor, two nurses, and plenty of security personnel, all of which are trained to respond to emergencies. And the facilities they have are up to standards, too.
Services like common laboratory tests, x-rays, injections, and visits to cabins are available. Moreover, doctors on the cruise can send lab test results, images, x-ray reports, and other medical data to specialists on land.
In short, these "cities on seas" are well-equipped to accommodate you. So be sure let them know if a family member has an existing condition.
The downside, however:
An initial visit to the infirmary can cost up to $100.
So while you're happy the doctors are around should you need immediate attention, you don't want to visit the infirmary to get paracetamol or treat a minor injury. For basic concerns, a well-stocked first aid kit should suffice.
We've already covered the components in an earlier section. Simply go back to the list, and add more depending on your specific needs.
Next…
Speak to a travel medicine professional to check necessary immunizations before the trip.
Ocean liners have an average passenger capacity of 3,000, meaning you'll mingle with people who may have poor immunization coverage. Throw multiple destinations into the mix, and the risk of an outbreak becomes real.
The Center for Disease Control and Prevention recommends updating shots for:
Measles
Mumps
Rubella
Varicella
Chickenpox
Influenza
You may require more depending on the itinerary.
Consider getting travel assistance, too. This service is separate from traveler's insurance and medical insurance. The program pays for family members so they can get medical care even in a foreign place, including evacuation to a facility on land.
If you do get one, be sure to ask about the activities in your cruise. Many policymakers exclude active and dangerous pursuits – like skydiving, parasailing, and even drinking alcohol – from their coverage.
Pay Attention To The Safety Drill
All cruise ships must hold a safety drill before leaving the dock.
Also known as the muster drill, this 30-minute briefing requires passengers to head to their muster station where crew members will walk them through safety features around the ship and procedures you need to follow in case something goes awry during the cruise.
Before the drill commences, the cruise director will announce the location of the stations.
Large ships, like those of the Royal Caribbean, have multiple muster stations. You can find the code for your station on your key card and on the back of your cabin door. Smaller vessels like river cruise ships, on the other hand, will only have one.
Part of the instructions you'll get include signals and warnings to listen for, exit routes and areas to avoid, as well as how to put on a life jacket and more.
The last thing you want to do in an emergency is to ask what to do.
So do not miss the muster drill!
Keep your eyes and ears tuned in to the briefing. You'll have plenty of time to look around throughout the cruise. You will also want to review the safety information later, usually accessible via the entertainment system.
Water And Pool Safety
Many people have the misconception that, since cruise ship pools are crowded, they are safer than land pools.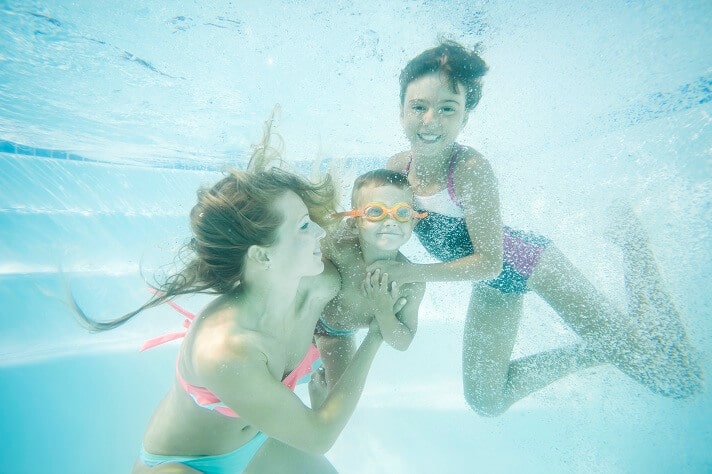 Not true at all!
Cruise ship and land-based pools pose the same safety risks and drowning hazards, especially to children. Parents should always provide one-on-one supervision while staying within reach when their children are in the water. Yes, you're taking a vacation – but not from parenting. So stop reading, taking pictures, and texting on the phone, and watch the waters where your kids are.
Some cruise lines may have safety and security personnel to keep tabs of the pools.
Major cruise lines like Norwegian, Royal Caribbean, and Carnival now have trained lifeguards to watch over family pools. Sure, these extra pairs of eyes can help swimmers stay safe. But with dozens of adults and children dipping on the pool, you don't want to leave the monitoring to the lifeguards.
Before heading to a vacation, you want to review basic water and pool safety tips. First on the list of reminders is: do not go near a pool without adult supervision. Doing so is courting disaster. The wet ground is a big slipping hazard, while accidentally going to the deeper portions of the pool can drown a child.
On the other hand, diving on areas that are too shallow can also lead to serious injury. So tell your toddler to always check the water's depth.
And if they notice something's amiss…
They should let you know right away.
If you have a few weeks or months before the cruise, consider enrolling your kids in swimming lessons.
Teaching the little ones how to swim and strapping floatation devices onto them doesn't replace adult supervision, of course. However, knowing how to swim empowers your toddler to stay safe, lets him or her get more fun out of the cruise, and it's just an all-around valuable skill.
Regular And Frequent Check-Ins
Cruises have attractions for everyone when not on a port or destination.
Toddlers have a selection of kid's entertainment and activities to choose from. Young adults are treated to teens-only parties. And the grown-ups have access to a wide range of facilities – from gyms, bars and clubs, to casinos and more.
If your kids are two years old or younger, you will want to keep them with you at all times. On the other hand, the older group may want to enjoy and hang out with fellow teenagers. Whether to let family members go separate ways or not is up to you.
If you decide to give everyone some autonomy, however, having clear-cut check-in rules is a must.
Establish how often everyone should check in (ex: every hour or two) and which medium to use. You can use walkie-talkies, whiteboards, or notepads. Ask if your ship has an onboard messaging app, so everyone can instantly alert the rest of the family members if needed.
Parents must remember a few guidelines, too.
You are just as responsible as other family members for notifying everyone, especially the little ones, where they can find you. Keep the gang "in the know." Inform them what your plans for the day are and notify them should your plans change.
Going Into Someone Else's Cabin Is A Big No-No
During the cruise, young ones will meet different people and make new friends. But while making new buddies is an excellent way to spend your days on the seas, make sure your children know not to enter someone else's cabin.
A friend they trust may invite them in, or may need to grab something from his or her room. However, they can never be sure who's waiting behind those doors.
On a similar note…
If a child is alone in the cabin, he or she shouldn't let anyone in – not even room service if the youngster feels uncomfortable.
Curfew And Locations That Are Off-Limits
Set a curfew, say 11 pm, and be firm about it.
Being on vacation means you can let the young ones stay out for longer. But kids and teens have no reason to stay up and roam around the ship in the wee hours. They must be back before the curfew, or they'll spend the next 24 hours with you.
Non-adults should also know that adult-only and crew-only areas are off limits if not accompanied by a parent. If anyone, even a crew member, asks to take them somewhere private or "exclusive," they must say no.
Buddy Up
Having a buddy is always better than being alone. Boy scouts, girl scouts, and schools on a field trip use the buddy system – and so should travel groups and large families on a cruise.
Going out in pairs doesn't guarantee safety. But doing so means someone can dissuade the other from getting into trouble, reinforce rules, or call for help in a crisis.
So buddy up!
You will want to pair a family member with a slightly older friend or relative. Or, pair someone new to cruising to an experienced vacationer. Not only does this help reduce the burden of looking after everyone. But it also gives everyone in your family or group a chance to bond and find common ground.
Stay Sober And Alcohol-Free As Much As Possible
Family members 18 years old or older may choose to consume alcohol. If you let the 18-year-olds drink, make sure they know not to go binge drinking. They should also have a sober friend or relative looking after them so they don't get into slippery situations.
For minors, however, drinking is strictly prohibited.
Underage drinking can lead to major problems, especially while you're on a cruise with thousands of strangers.
You, too, should stay sober as much as possible. You don't want to be too drunk to help a family member in need. If you must consume alcohol, make sure your wife or husband stays sober. Doing so means one parent can still make smart decisions, even if the other passes out.
Did You Like The Guide?
And that's a wrap!
We hope that you enjoyed and learned a lot from the guide. Even with nearly 7,000 words, the guide is by no means exhaustive. But we've covered much of the basics of traveling safely with children.
On the other hand, we want the guide to stay evergreen – useful for everyone for the years to come. So we'll continue to update it. And if you have suggestions for improvement, reach out to us via the contact form.
We'd love to hear from you!